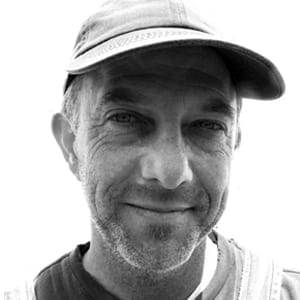 DAVE LOEWENSTEIN– Muralist, printmaker, and arts organizer, Dave Loewenstein will be painting a new mural on the back side of Beadology, overlooking Studio 13. In addition to his more than twenty public works in Kansas, examples of his dynamic and richly colored community-based murals can be found across the United States, and in Northern Ireland, South Korea and Brazil. Loewenstein's prints, which focus on social justice issues, are exhibited internationally and are in the permanent collections of the Museum of Modern Art in New York, Yale University, and the Center for the Study of Political Graphics in Los Angeles. In 2014, he was named one of the founding Cultural Agents for the new U.S. Department of Arts and Culture, and in the spring of 2016 he led multiple mural projects in Brazil on a project coordinated by the Meridian Center for Cultural Diplomacy.
RYAN MCGUIRE- Ryan McGuire will be installing a robotic mural in June on the Field House wall so stay tuned! Born and raised in Upstate New York, Ryan now resides in Grinnell where he started a design company, Bells Design. He is a self-taught artist, designer, photographer, and coder who creates art to share his imagination with the world. He describes his art as whimsical creations to make people happy.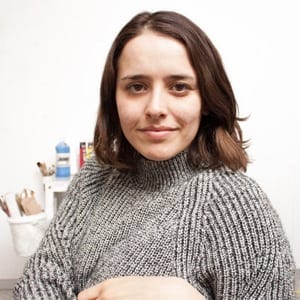 MARINA ROSS-Selected as the muralist for the back side of the FilmScene building  Marina Ross  is an artist based in Iowa City, working in painting and ceramics. She received her BFA from the University of Illinois at Urbana-Champaign and is a newly minted University of Iowa MFA.  Her work has been exhibited in Chicago and New York and she was recently awarded the Stanley Grant for International Travel to complete the Saint Petersburg Artist Residency in Russia. Marina plans to paint the wall in the first two weeks of June, and we can't wait to see her cinematically inspired mural design unfold!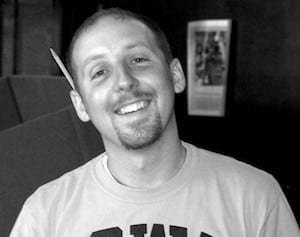 CHRIS VANCE– Chris is a full time painter currently living in Bondurant, Iowa. Graduating from Iowa State University in 2000 with a degree in fine arts, Chris has traveled the Midwest and won numerous juried competitions.  Vance's work is influenced by a background in printmaking, street art, and child like drawings, offering the viewer a new take on abstraction. Chris will be painting the wall at 204 East Washington Street, bringing a site specific pop of color to the heart of downtown. The mural will be a huge transformation, and work will start towards the end of the summer – stay tuned!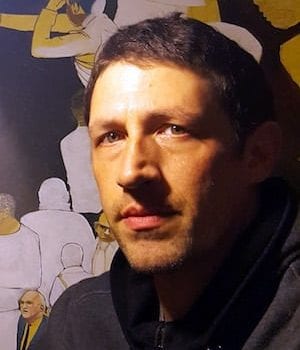 NICK MEISTER- Local artist Nick Meister's design was chosen to grace the back side of the Meacham Travel building near the Iowa City Public Library. Nick was one of 5 artists selected by a committee of local artists and arts professionals who reviewed over 200 applications for the 5 walls. Nick has been painting with acrylic, oil, and watercolor professionally for 20 years, and currently resides on the east side of Iowa City with his wife and two kids. He plans to begin the project in late May, and we can't wait to see this wall get a whole new look!