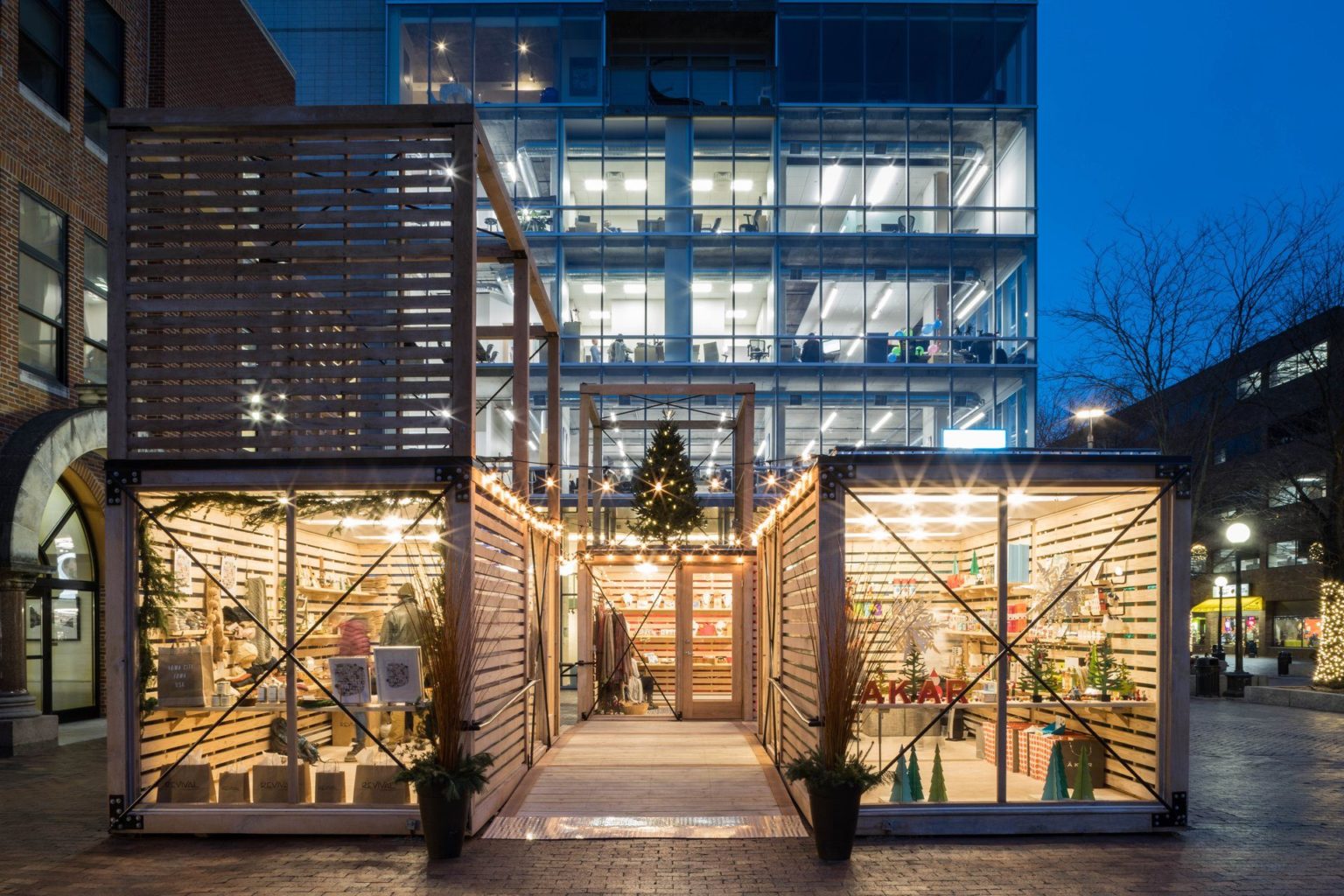 In 2017, the Iowa City Downtown District had local architect, Sanjay Jani design portable, heated pop-up units to be used in the pedestrian mall as a feature for the holiday season. Taking a break in 2018 due to construction, the Downtown Holiday Pop-Up Market sponsored by GreenState Credit Union has now returned to the north end of pedmall for the next two months and will feature dozens of different vendors.
While pop-up shops and markets are growing in popularity throughout the world, Iowa City's downtown shops offer a custom and unique experience. Rather than the typical tent or vendor market the downtown holiday pop-up market was designed with retail in mind with large windows for lots of natural light, LED lighting tracks, and customizable shelving areas.
The Holiday Pop-Up Market will have a rotating schedule of shops and participants over the next two months. "We have a jam packed schedule of different shops and makers joining us over the next several weeks that will add even more to the already terrific shopping experience that we have downtown in Iowa City", said Director of Creative Services, Betsy Potter. "We constantly aim to offer what people are looking for downtown and this type of market is something we know there is demand for and we are excited to bring it back again for the 2019 season". In addition to adding to downtown's retail cluster, the shops offer downtown retailers additional space in a new setting to feature their gift items and unique product. On its opening weekend, Nov 8-10th, men's store Fontentelle's Supply Company from Des Moines will be in all three shops featuring custom leather goods, denim, and gift items.
The entire schedule includes:
*Nov. 8-10- Fontenelle Supply Co. in all three shops!
*Nov. 11-17 – Luxe Interiors
*Nov. 18-21 – Holiday Escape Room & Rare Bird Soap Shop
*Nov. 22-24 – Necessary Behavior, SLICE Bakery, The Pop-up
*Nov. 25-28 – Riverside Theatre
*Nov. 29-Dec 1 – (Downtown Iowa City Small Business Saturday)- Catherine's Boutique – Iowa City, IA, The pop-up, West Music
*Dec 2-5 – Rare Bird Soap Shop, The pop-up, Butter Custom Bakery, LLC
*Dec 6-8 – Wolf Den Wares, The pop-up, Glassando
*Dec 9-12 – Revival Clothing Store, Ruka, {made} community
*Dec 13-15 – Daydreams Comics, Revival Clothing Store, {made} community
*Dec 16-17 – Rare Bird Soap Shop, University in 3D Design
*Dec 18-19 – Ramitas, Rare Bird Soap Shop, University in 3D Design
*Dec 20-22- Susan Shinnick, Whoa Nelli Natural Cleaning Products, The Makers Loft Iowa City
*Dec 23-24 – Whoa Nelli Natural Cleaning Products
###
Contact:
Betsy Potter
Iowa City Downtown District
Director of Creative Services
319-354-0863