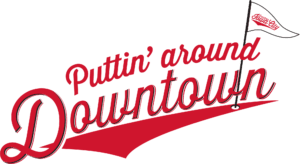 The Iowa City Downtown District is excited to announce a new event happening this Summer, Puttin' Around Downtown. On Saturday, June 5th from 10:00 am – 6:00 pm, Downtown Iowa City Bars and Restaurants will host an all-day mini-golf course for teams to compete and play. Pre-registered teams will have the ability to play up to 12 mini-golf holes at various downtown venues made up of restaurants and bars.
"The Iowa City Downtown District is excited to offer another new event this summer. Puttin' Around Downtown was created to help drive foot traffic to downtown businesses and provide the community with another fun reason to visit downtown. It speaks to recent hospitality trends of gamification and social outings and will be a self-guided event where groups can space themselves at a safe distance. Proceeds from the event will be donated to a great organization that supports healthy and safe nightlife culture, so we encourage people to come out and have some fun with this new event", said Nighttime Mayor, Joe Reilly.
Teams will play through at their own pace and in the hole order of their choosing. Food and drink specials will be featured for competing teams as they play through the course that afternoon at participating venues. Each hole is being built by the participating venues to be at varying levels of difficulty.
Only 80 tickets/teams are available for purchase and the event will happen rain or shine. Participating venues include Donnellys, Joe's Place, Players, Sports Column, The Airliner, The Graduate Iowa City, Micky's Irish Pub, Elray's Live & Dive, Gabe's, Pints, Brothers, and Burger Haul.
Tickets are available for purchase online for teams of up to four participants: https://downtowniowacitymarket.com/products/puttin-around-downtown
Proceeds from Puttin' Around Downtown will help support Raise the Bar training for restaurant and bar employees downtown. This is a community outreach education initiative driven by RVAP. See more details here.