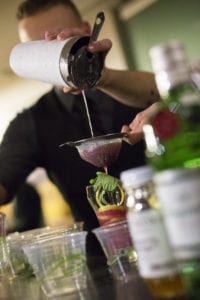 Top Chef: Downtown Returns to Iowa City This February 
-Iowa City's Favorite Culinary Competition Celebrates 9 Years
Top Chef: Downtown returns to Iowa City this February for its 9th year. On February 25th, chefs, mixologists, and bakers face off in a friendly competition to be named Iowa City's Top Chef: Downtown.
After 9 years, Top Chef: Downtown is still offering a unique experience to try sample dishes straight from a variety of chefs and mixologists. This year, the event is set to be bigger and better than ever before. This is the first year the event will be moved to a larger location to offer more room for participants and guests, the event will be hosted by the Graduate Iowa City (210 S. Dubuque St.). Sponsored by Hills Bank and Trust Company and U.S. Foods, Top Chef: Downtown will have a whole new look with the location change and have more space, restaurants, and guests.
"We are extremely excited to partner with Graduate Iowa City. Not only is it a gorgeous, unique setting that we constantly want to show off in downtown, but the added space is much needed," said event coordinator, Christopher Hunter. "Each year, the event sells out so fast, this year with a larger venue and more participants, we can offer more tickets." In addition to the venue change, ICDD is partnering with downtown favorites FilmScene and The Englert Theater to supply the background entertainment.
Tickets are $55 and include all tastings in all categories. "We recommend anyone wishing to attend to purchase tickets right away Friday morning. Tickets typically sell out in a few hours and although we have more for sale this year, we anticipate the demand to sell out before the end of the day," said Hunter.