As I Am
September 16 @ 8:00 pm

-

10:30 pm

$15 – $17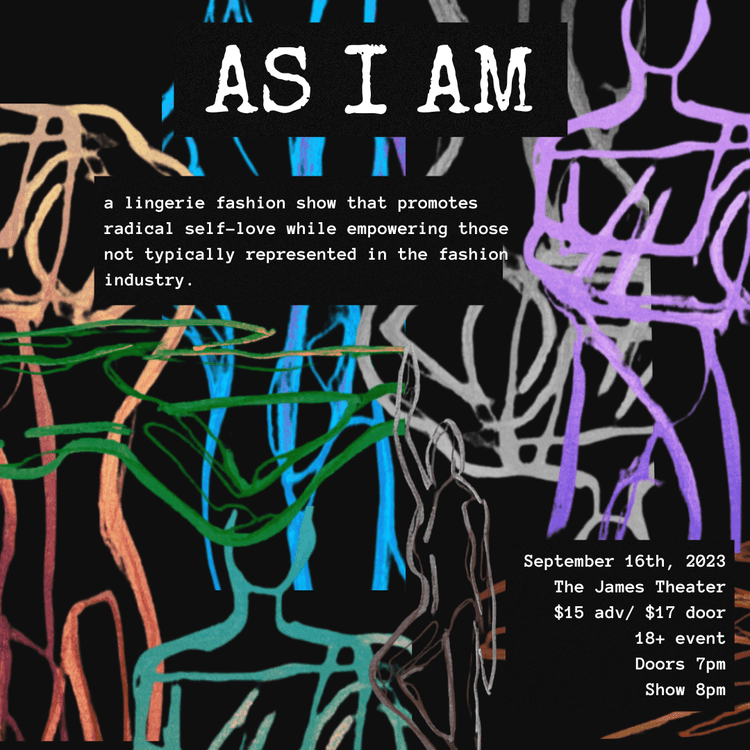 Additional Information

              
As I Am
As I Am is a lingerie fashion show created by Ariana Jahn Hawkins, Jean-Ivonne Keller,
Molly Kresse, and Meg Lowe. Beginning last October, the designers and organizers of the show
created 5 collections with the mission of empowering those not typically represented in the
fashion industry. Over the past 10 months the crew faced a few obstacles, but pushed through
and are so excited to be having the show at the James Theater. We hope you enjoy the show!
Collections
What We Got
The pieces in this collection demonstrate the value of sustainability. Having a limited
amount of resources and supplies creates a challenge to design. Still, through grit, designers took
on the challenge of creating new pieces from repurposed fabrics, and clothing already in their
possession.
Enchanting Spring
The pieces in this collection bring a breath of fresh air after a season of darkness,
reflection, and rest. New possibilities of gender expression fluidly explore color and style.
My Body
To love one's self-right, creating a sense of empowerment in the body you were blessed
with is vital. Just because you don't fit society's beauty standards, doesn't mean you aren't
beautiful. These pieces accentuate what empowers the model's body and celebrate its beauty.
Chains and Whips Excite Me
The designers played with male vulnerability and consent by giving a different
perspective of what the norm sexual power roles "usually" are. These designs challenge gender
roles in the bedroom while simultaneously embracing the darkness. The thought of darkness can
be off-putting to some but you NEED darkness to see the light.
Free Fall
For this segment, the designers had artistic freedom to design. This segment highlights
the designers by showing their personal style and imagination. The designers will model their
pieces to showcase that one does not need to be limited in expression.
Designers
Arianna
Arianna is a designer/model and overall creative, in the iowa area with
3+ years of professional experience. She pulls all of her inspiration from
her daily life as an autistic black women, founding her work off the
human experience and the emotions that come with it. Her goal is to
enhance the natural ability to connect to herself and others through
design, art, sound and movement. She currently runs JAHN the online
clothing store!
Jean-Ivonne Keller
Jean-Ivonne Keller is a Black activist, model, photographer, and
pre-nursing student at the University of Iowa. Jean- Ivonne is also an up
& coming fashion designer and a businesswoman. Along with being a
stylist she is known for SLAYING new fashion styles and makeup
trends. Jean-Ivonne is a native to Iowa City and recently had a fashion
show to release her brand "Irma2Ivonne" or "i2i", a Black owned
eco-friendly clothing brand that uses thrifted/donated materials to create
custom quality pieces that are made to feel timeless. "Irma2Ivonne" was
made with the mission to promote self-confidence, and equal
representation & body positivity for people of all sizes. Every person
deserves to feel and dress their best when they see eye to eye with
Jean-Ivonne's designs.
Molly Kresse
Molly Kresse recently graduated from the University of Iowa with a
degree in Social Justice and a certificate in sustainability. Molly
currently works at Revival and is co-organizer of the Iowa City Flea.
She upcycled for 6 years in Des Moines and Iowa City. Molly is excited
for this show. It is truly beautiful, fun, empowering, and for Molly is a
last hurrah as she no longer upcycles so she can pursue other creative
projects and spend more time outdoors.
Meg Lowe
Meg Lowe has been a creative and vintage clothing dealer in Iowa City
for almost eight years. She graduated from University of Iowa in with
a studio arts degree focusing in graphic design. After that she started
working with small businesses running their marketing and heading
their vintage sections. She has always had an interest in clothing design
and upcycling. Her piece for enchanting spring is one of her very first
pieces. She's very excited for you to see this show and honored to work
along side so many incredible designers and creatives.