Totally Tweens: Comics & Cookies: The Golden Hour
Totally Tweens: Comics & Cookies: The Golden Hour
January 3 @ 8:00 am

-

5:00 pm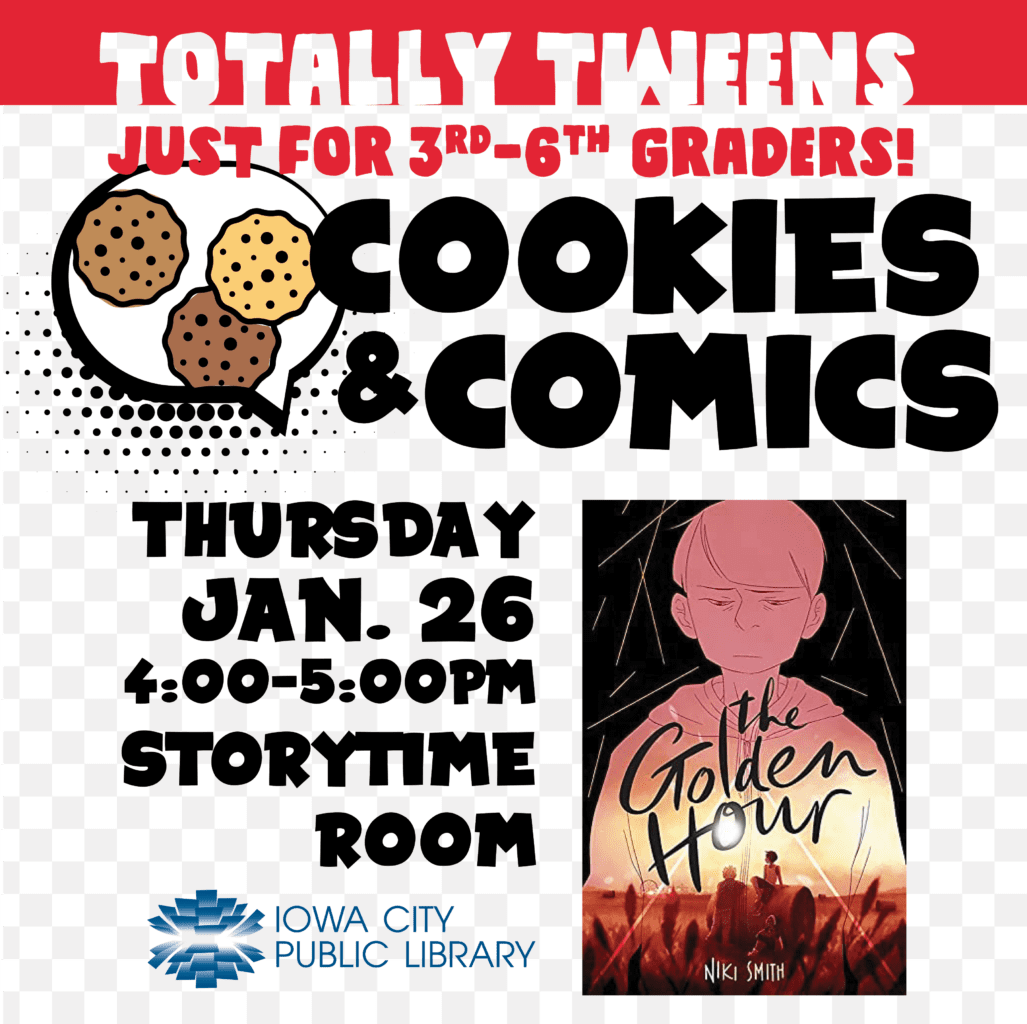 Thursday, January 26, 2023 –4:00pm to 5:00pm
Tweens are invited to a monthly meet-up to discuss graphic novels. We'll be talking about a different book each month and doing activities based on them. Plus, cookies will be served!
This month we will discuss the All Iowa Reads pick for kids, The Golden Hour by Niki Smith. After witnessing gun violence at school, Manuel struggles with anxiety but his cell phone camera helps him find anchors when he dissociates, and an unexpected friendship opens up new possibilities.
All Iowa Reads, established in 2003, is a program of the State Library of Iowa. Three books (one each for adults, teens, and kids), are selected by a committee of librarians each year. Iowans are encouraged to come together in their communities to collectively read and talk about the same book title over the course of a calendar year.
—
Los preadolescentes están invitados a una reunión mensual para hablar sobre novelas gráficas. Estaremos hablando de un libro diferente cada mes y haciendo actividades basadas en ellos. ¡Además, se servirán galletas!
Totally Tweens少年空间 每月一次邀请3-6年级同学们一起阅读和讨论漫画小说。每期活动我们将讨论一本新书并开展相关活动,还有饼干供您享用!
本月我们将讨论 "爱荷华人在读书"项目的年度童书,Niki Smith所著的 The Golden Hour 《金色时光》。曼努埃尔(Manuel)在学校目睹枪支暴力后经历了焦虑和困扰,但他却用手机摄像头重新找到了锚点,并开启了一段意想不到的友谊。
"All Iowa Reads ""爱荷华人在读书"是爱荷华州立图书馆开始于2003年的阅读促进项目。每年由图书馆员委员会选出三本年度图书,成人、青少年和儿童各一本,并鼓励爱荷华人一起阅读和讨论。
If you need disability-related accommodations in order to participate in this event, please contact the Library.
This event is open to the public.