Wine & Cheese: An Education Celebration
Wine & Cheese: An Education Celebration
December 15, 2022 @ 6:00 pm

-

8:00 pm

|

Recurring Event

(See all)

One event on December 15, 2022 at 6:00 pm

One event on January 19, 2023 at 6:00 pm

One event on February 23, 2023 at 6:00 pm

One event on March 23, 2023 at 6:00 pm

One event on April 20, 2023 at 6:00 pm

One event on May 18, 2023 at 6:00 pm

$30 – $75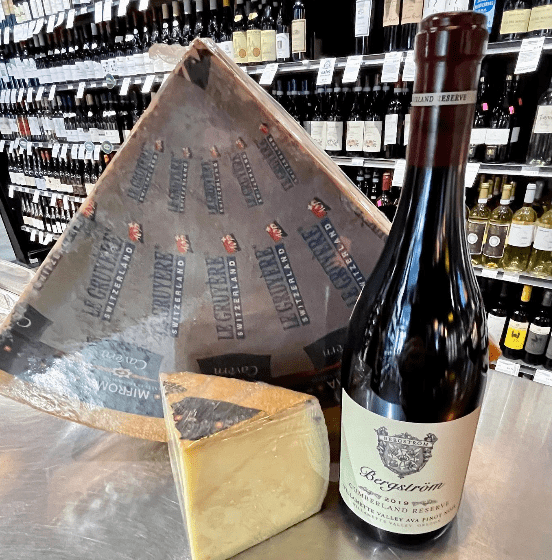 Join us each month for an education your taste buds deserve. Your friends at the Bread Garden Market will take you on trips around the world each month, pairing our fine selection of wine with our equally exquisite selection of cheese. Stop by the bar to register, or send a note to mark@breadgardenmarket.com. Groups are welcome! Space is limited.
Bread Garden Wine and Cheese Classes are Back
$30/Class
or Sign up for a Block of Three for $75
Classes are from 6:00pm-8:00pm on days indicated above
Located at – Wine Bar
5 to 6 wines – With a Cheese Sampling to Pair
Thursday September 22nd – Italy at the Extremes
We're Talking Far North and Far South – Val D'Aosta, Lombardy, Alto Adige Contrasted with the South – Sicily, Puglia and some Campania – Just because it's fun and examines how diverse the wines and cheeses the country produces can be!!
Thursday – October 20th – Bordeaux and English Cheeses!
Bordeaux and England have a rich, shared, and more than occasionally violent history together – Bordeaux was actually controlled by the British for almost 300 years – and some famous Bordeaux houses are still owned by British families – So I'd thought we'd pair some British cheeses with some fine Claret – a time honored tradition!!
Thursday – November 17th – Off the Beaten Path with Your Thanksgiving Fare
Pretty straightforward – but we have some new and interesting items that we think will pair well with your Thanksgiving fare–and not the usual, same old boring recommendations. Whether they are slightly off the beaten path regions or varietals -we'll make you the talk of the Turkey table – but not in the creepy, drunk Uncle way. Plus, impress your friends with your own cheese and charcuterie boards (i.e. – how to make them – we're not giving these away!!)
Thursday December 15th – Happy Holidays and New Year's Edition
Delicious sparkling, great pairings, and gift ideas – we'll have a little bit of everything in this one. Ever wonder what to get that no so special loved one that you need to get a gift for, don't want to spend the money on them, but also don't want them to think you're cheap – we got you covered. We also got you covered for that special someone in your life that you do really want to impress. Plus, recommendations on some great bubbly to bring in the New Year!
Thursday – January 19th – Red's (and White's) and Hearty Cheeses to Keep you Warm in the Winter
Rhone, Paso Robles and Ribera – Big Reds from the Rhone, Paso Robles and Ribera del Duero that will keep us nice and warm this winter – We'll go in depth in each region – explore some of the more fun and awesome wineries in the region and why those areas are conducive to big, dense reds!
Thursday February 23rd – U.S vs. France – Round 2 –
Bubbles vs. Bubbles – Bloomy vs Bloomy
Riesling vs. Riesling – Goat vs Goat
Pinot vs Pinot – Mountain vs Mountain
Syrah vs. Syrah – Sharp vs Sharp
Franc vs. Franc – Funk vs Funk
Two will enter – both will come out – we're just tasting cheese and wine here – seriously – what did you think was gonna happen?
Thursday – March 23rd – Are we Actually Going to Have a Spring in Iowa this Year and Other Important Questions While We Get Drunk on Wine and Cheese
We're Going to Answer the Hard Questions on This One – What are Natural Wines? – How Is Eating Cheese Related to Opiods? What is the Difference Between a $15 and $50 wine (besides the price point)? Why are we Still Paying Good Money for Beaujolais Nouveau? (Areas focused on – Beaujolais Crus, What goes into good wine vs great wine (not literally into; they are all the same basic ingredients), varieties of aged Gouda's, Cheddars, and Pecorinos', and some fun natural wines
Thursday – April 20th – Checking in with South America
Some exciting stuff has been going on with South America over the last 10 years. More and more – farmers are discovering old, abandoned vineyards, tons of new technology and monetary investment is being poured into the wine industry and the rise of the next great generation of winemakers is all converging into some of the most exciting wines coming from our neighbors to the South
Thursday – May 18th – Central, Eastern Europe and Middle Eastern Wines 
Great wines have been coming out of these areas for thousands of years – since before Roman times – for reasons we won't go into here – very few wines have made it over to the U.S. This is changing – and we are very happy about it – come find out what all the buzz is about