Full Time
Commensurate USD / Year
Salary: Commensurate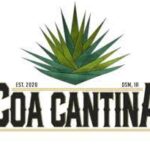 Website Coa Cantina
We're bringing Des Moines' #1 Tequila Bar to Iowa City!
We plan to open mid/late January and are hiring for the General Manager position.
Our ownership group is hands on and we are looking for someone to work closely with us overseeing the day to day operations.
-Hiring
(We will hire initial staff members)
-Scheduling
-Overseeing staff
-Bartending
-Liquor and beer orders
-Maintaining inventory
-Opening and closing of the bar
-Banking
-Running any errands necessary
-Must have 2+ years bartending experience
(Our managers are allowed and encouraged to Bartend)
-Must be 21+
-Must have references
-Must be available nights and weekends and any game days or days of local events
-Must maintain a very clean and organized space.
(With the assistance of staff and cleaning crews)
Shifts will be 5 days a week with 2 days off each week.
This is going to be a very fast paced, high volume atmosphere. This job will be demanding but extremely rewarding.
We are only looking for candidates that have the desire to consistently serve the highest quality products to our customers at all times.
Pay will be based on experience.