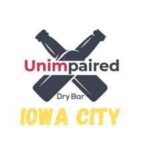 Website Unimpaired Dry Bar
A bar, without ALCOHOL?! Why yes that's us!
Unimpaired Dry Bar has an opening for an experienced General Manager to lead operations in Iowa City. Our alcohol-free bar and restaurant concept is a fun, casual, one-of-a-kind setting in downtown Iowa City with all of the amenities of a traditional bar and restaurant, minus the alcohol.
We're looking for a General Manager with successful tenure in the food & beverage industry who brings energy, enthusiasm, and expertise in guest services to our eclectic team. With a start-up mentality, we welcome entrepreneurial-minded candidates with a passion for producing high-quality, handcrafted food and drinks.
If you have a strong command of P&L, labor, and product costs plus the ability to coach, mentor and lead a team, we're eager to meet you. Email or stop by Unimpaired to request a job description, or send your resume to unimpaired02@gmail.com.