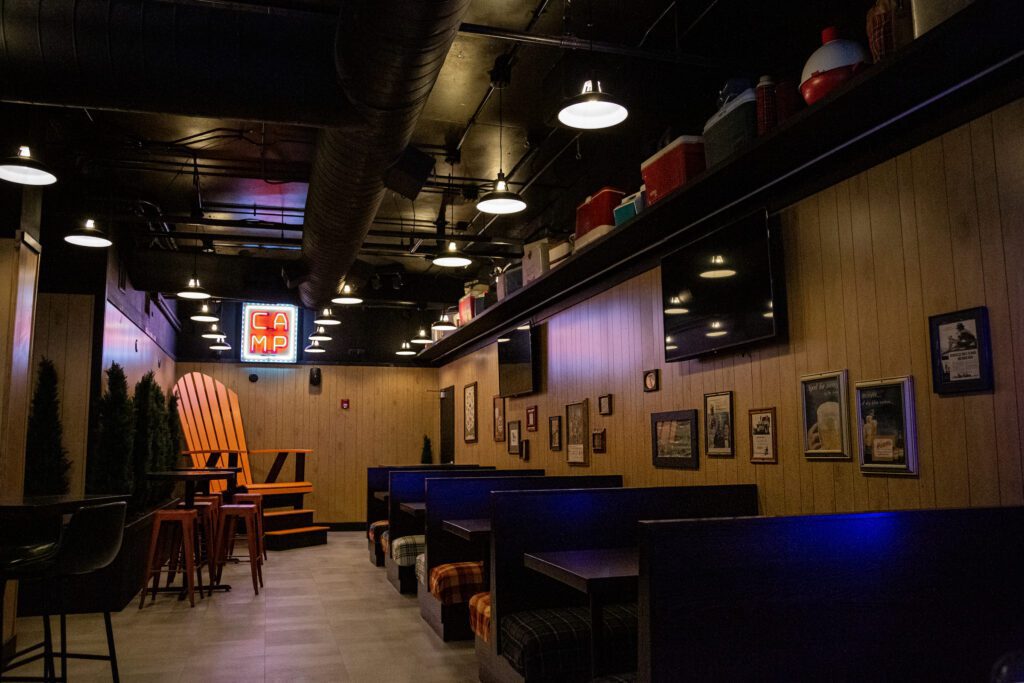 Iowa Ave Hospitality Opens Camp & Scout's Honor
in Downtown Iowa City
– New Ownership Group Takes Over Iowa Ave Businesses –
(Iowa City, IA) – November 3, 2023 – The Iowa City Downtown District announced this week, two new locally-owned restaurants will open on Iowa Ave- Camp and Scout's Honor. The sister businesses are located side by side on Iowa Avenue with separate spaces offering two new bars and a restaurant for patrons to experience. Camp had its opening in late October, while Scout's Honor is set to open this November.
Iowa Ave Hospitality is led by Josh Immerfall and Nick Carroll who both have decades of experience in the area with other Iowa City staples. Josh is the owner of Donnelly's Pub in the Ped Mall and Nick is the owner of Hatchet Jack's in Iowa City in addition to Pat and Frans in Coralville. Camp and Scout's Honor will take over the spaces previously known as Eden Lounge and Players Sports Bar and Grill. The two are excited to introduce the community to the new concepts that will bring excitement to nightlife downtown.
"Camp is bringing the northern woods to Iowa City. With a log cabin bar, flannel booths, and brandy old-fashioned, Camp is bringing the comforts of 'up north' to downtown. Camp is a comfortable bar that will definitely bring the party," said owner and founder Josh Immerfall.
Camp is located at 217 Iowa Ave. and is officially open Wednesday through Sunday with the opportunity to book private parties on Mondays and Tuesdays. Designed in true Midwest dive-bar fashion, Camp is a place meant for anyone and everyone to visit with the comfort of feeling at home while downtown. The cozy atmosphere takes you back to those days at camp sipping drinks around the fire, canoeing along the river, and seeking adventure with friends old and new. Camp is meant to be a place where you feel like you belong while also bringing the fun of the outdoors inside. The space is decorated with wood-paneled walls, timeless photos, 'The Blue Canoe,' and coolers that have been hand-selected from across the state, each with their own unique story from the families who've used them.
The menu features new hand-crafted cocktails including a S'mores Shot and Camp Water, while offering tasteful classics like the Canteen Bloody and Brandy Old-Fashioned inspired from Wisconsin. The late-night kitchen serves simple items adapted from Scout's Honor's menu next door with classic midwestern comfort food including loaded waffle fries, grilled cheese, cheese curds, and a double-smash camp burger.
Located next door at 219 Iowa Avenue, Scout's Honor will be opening soon with 'pizza by day and party by night.' The menu will feature a variety of pizzas, sandwiches, and salads and bring the party with cocktails and a dance floor at night full of disco balls.
Camp – https://www.campiowacity.com/
217 Iowa Avenue, Iowa City
Wed – Sun | 7:00 p.m. – 2:00 a.m.
Instagram: CampIowaCity
Facebook: Camp Bar
Scout's Honor – https://www.scoutshonorpizza.com/
219 Iowa Avenue, Iowa City
Mon – Sun | 11:00 a.m. – 2:00 a.m.
Instagram: ScoutsHonorIowaCity
###
Contact:
Nick Carroll
info@campiowacity.com