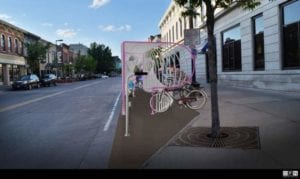 The City of Iowa City, the Iowa City Downtown District and Think Bicycles of Johnson County will celebrate the installation of a new 40 space bicycle parklet this Friday morning, October 14th.
The bike parklet is the first of its kind in downtown Iowa City and is being installed at the corner of Washington and Dubuque Streets in the loading zone space next to US Bank. To celebrate the new bike parklet, the community is encouraged to bike downtown and stop by between 7:30 and 9 a.m. for complimentary Molly's Cupcakes muffins, Java House coffee and bike related giveaways.
OPN Architects designed the new structure and titled it "Play" which is also spelled out in the design. It was chosen for its unique and imaginative look that showcases Iowa City's bike-ability, as well as its functionality to create additional safe, convenient bike parking in downtown Iowa City.  The bike parklet will be up until winter and then will be reinstalled in the spring of 2017.
Funds for the parklet came from the City of Iowa City as part of its commitment to improving bicycle friendliness and infrastructure. The City is currently working to update its Bike Master Plan and to make additional improvements including the installation of additional bike lanes, new repair stations and racks as well as expanding trails.