55 Years of International Writers in Iowa City
55 Years of International Writers in Iowa City
December 14, 2022 @ 9:00 am

-

6:00 pm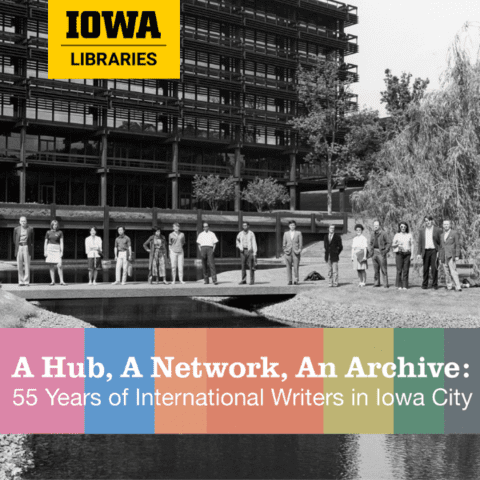 A Hub, a Network, an Archive: 55 Years of International Writers in Iowa City
Wed, 31 Aug 2022 @ 9:00AM – 6:00PM CT(Occurs on more dates through Fri, 16 Dec 2022. See event details.)
Main Library Gallery exhibition:
The International Writing Program (IWP) has brought close to 1,600 writers from more than 150 countries to the University of Iowa since 1967. In celebration of the program's 55th anniversary, the exhibition A Hub, a Network, an Archive: 55 Years of International Writers in Iowa City tells the story of IWP's genesis, its role in cultural diplomacy, Iowa City as a site of literary praxis and global networking, and the images of Iowa that writers have carried home with them as represented in their work.
Curated by Nataša Ďurovičová and Lisa Gardinier, the exhibition includes University of Iowa Libraries Special Collections & Archives materials such as the Paul Engle Papers, the International Writing Program Records, the Toothpaste/Coffee House Press Records, and more. Items from the University of Iowa Libraries circulating collection, IWP's Shambaugh House, and friends of IWP also make an appearance, in addition to a selection of large portraits of writers by photographer Thomas Langdon.
MAIN LIBRARY GALLERY HOURS:
Monday: 9 a.m. – 6 p.m.
Tuesday: 9 a.m. – 8 p.m.
Wednesday: 9 a.m. – 6 p.m.
Thursday: 9 a.m. – 6 p.m.
Friday: 9 a.m. – 6 p.m.
Saturday: 1 p.m. – 5 p.m.
Sunday: 1 p.m. – 5 p.m.
Admission is always FREE. The exhibition will be open Aug. 22 – Dec. 16, 2022. 
Please note that the Main Library Gallery will be closed on the following University of Iowa holidays during the fall semester: Sept. 5 (Labor Day), Nov. 24-25 (Thanksgiving).
Because the Main Library Gallery is an educational space on campus, there may occasionally be classes visiting during open hours. Thank you for your understanding.
The easiest way to access the Main Library Gallery is via the north entrance of the Main Library. Find parking options here: lib.uiowa.edu/locations/main/parking