Aron Aji
February 7 @ 7:00 pm

-

9:00 pm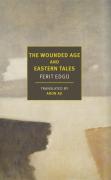 Prairie Lights
Director of Translation Programs Aron Aji will read from his new translation of The Wounded Age and and Eastern Tales, by Ferit Edgü, published by New York Review of Books. "A stark and ferocious love letter to a forgotten people, in a gorgeous translation that is utterly true to the wounded dreamscapes of the original. To read these pages is to be there, swept by mountain snows and the cruel winds of politics, undone by harsh beauty and the endless tragedy unfolding." —Maureen Freely
Ferit Edgü is one of Turkey's foremost authors whose work has, until now, been nearly unavailable in English.  He has been awarded both the prestigious Sait Faik Literature Prize and the Sedat Simavi Prize for Literature.
Aron Aji is the President of The American Literary Translators Association. He has translated works by Bilge Karasu, Murathan Mungan, Elif Shafak, and other Turkish writers. His translations of Bilge Karasu: Death in Troy; The Garden of Departed Cats won the 2004 National Translation Award; and A Long Day's Evening won an NEA Literature Fellowship, and was short-listed for the 2013 PEN Translation Prize. He is Director of Translation Programs at the University of Iowa.