Branding 101 for Starting a Business
Branding 101 for Starting a Business
April 26 @ 11:30 am

-

1:00 pm

Free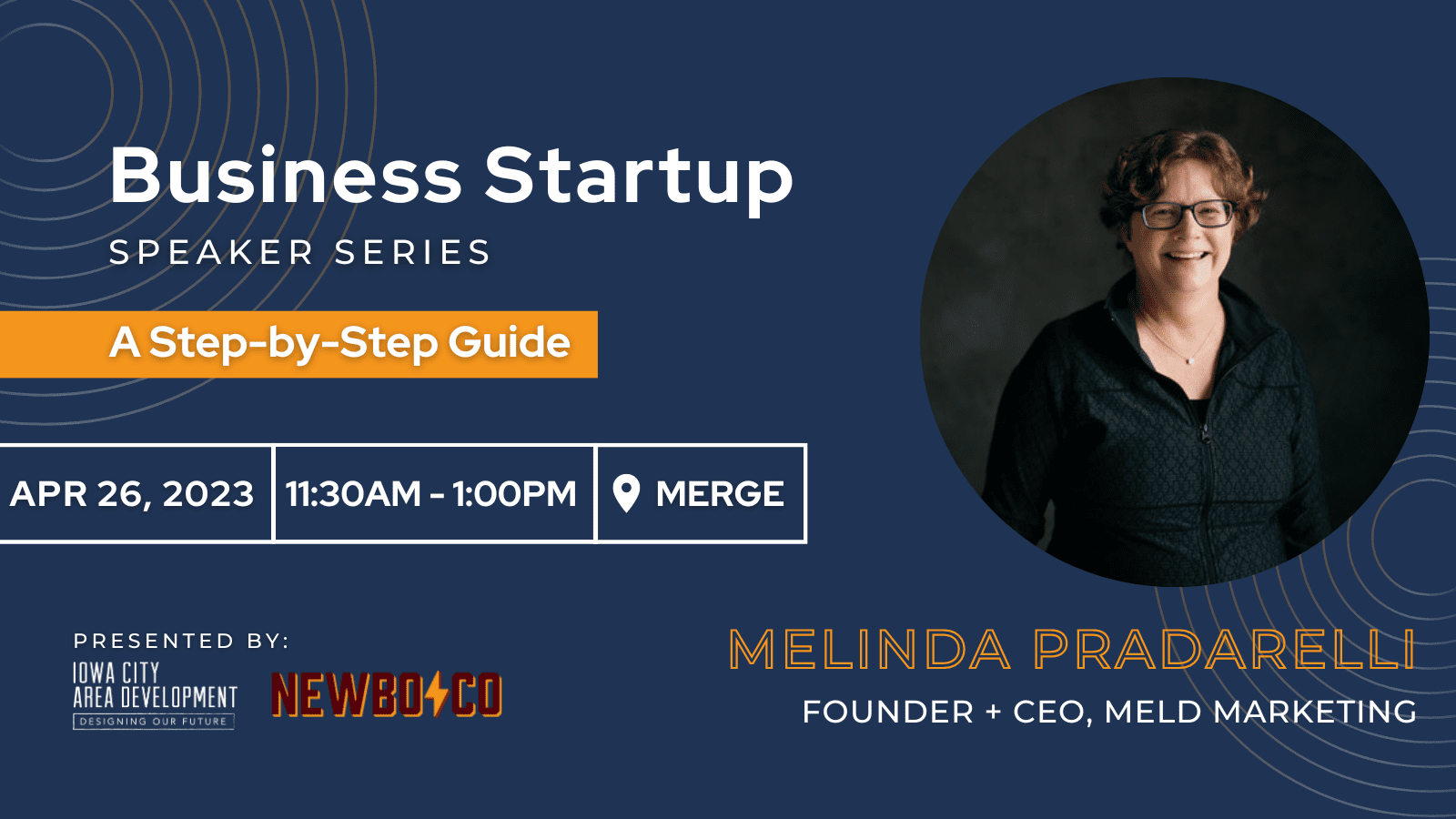 Join us in Iowa City on Wednesday, April 26th or in Cedar Rapids on Tuesday, April 18th for our fourth session on Branding 101 for Starting a Business.
Session Learning Objectives:
Upon completion of this module, participants will know what a "brand" is, why a brand is important, and how to develop and grow a brand.
Featured Speaker:
Melinda Pradarelli, Founder and CEO at Meld Marketing
Melinda Pradarelli is CEO of Meld Marketing in Iowa City, Iowa. Since the company's inception in 2016, Melinda has helped Meld forge a successful path, becoming one of the Fastest Growing Companies in the Corridor in its first five years. With 20+ years in marketing and brand strategy, Melinda has been recognized multiple times as a Top 250 Leader and a Most Influential Person by the Corridor Business Journal.
Melinda holds a journalism degree from Iowa State University, was a Pulliam Fellow at the Arizona Republic, became a journalist for The New York Times group in South Carolina, and completed the University of Iowa Entrepreneurial Venture School.
Melinda brings a unique business, marketing, and creative acumen to her work with local, regional, and national clients. She believes the best brands are developed and refined through collaboration, which is why she named her company Meld. She has apassion for working with companies and organizations of all sizes who want to elevate their marketing to the next level. She uses her passion for branding, content creation, and creative direction to work with small- to medium-sized companies, Fortune 500 companies, Ivy League universities, and everything in between.
Melinda has led the strategic branding for Meld clients, including Peace Tree Brewing, Oasis Street Food, Urban Acres Real Estate, Collective Data, Von Maur, the University of Iowa, and Kalona Super Natural to name a few. She has also authored four books about entrepreneurial businesses/leaders and contributed to The New York Times book, Circuits. Her other books include: Von Maur: How an American Department Store Dared to Do Things Differently, Delight: A Founder's Legacy, Brenton Banks, and One Man's Journey.
Her love of education and mentoring is the reason she sits on the board of the Iowa City Junior Achievement Board for Eastern Iowa.
The Business Startup Speaker Series — presented by the Iowa City Area Development Group and NewBoCo — leads current and aspiring entrepreneurs + small business owners through a Step-By-Step guide of all the things you need to know when starting and growing your business. From Adminstrative Basics to Branding, we'll cover it all.