Cynthia Ukah
February 19 @ 3:00 pm

-

5:00 pm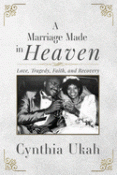 Prairie Lights
Iowa City author Cynthia Ukah will read from her memoir, A Marriage Made in Heaven.  
"A Marriage Made in Heaven is the story of the powerful love between an extraordinary man and woman from vastly different worlds… Cynthia writes with emotional honesty, powerful self-awareness, and engaging humor…This inspiring book is for all of us, but especially for those who are faced with devastating loss and are searching for a life beyond tragedy." -Bruce Hurd
Cynthia Ukah was raised in an NYC housing development and was part of a court-ordered busing program to attend white-majority schools. She earned a bachelor's degree in Elementary and Special Education from Howard University, where she met Nigerian born medical student Ferdinand Ukah.  They married and had children, as he became a gifted transplant surgeon, working at UIHC, the IC VA Medical Center, U of Pittsburgh Medical Center, and U of South Alabama Mobile, where he started a regional transplant center.  He was tragically murdered on a trip to Nigeria to oversee a transplant surgery on his father, leaving Cynthia to raise their four children.
Cynthia Ukah's children are now in college, so she devotes her time to elementary students with special needs in the IC Community School District. An active community member, she participates in church activities, and is a member of local planning boards. A Marriage Made in Heaven is her first book.