Expungement And Employment Barriers Clinic
Expungement And Employment Barriers Clinic
April 13 @ 3:00 pm

-

6:00 pm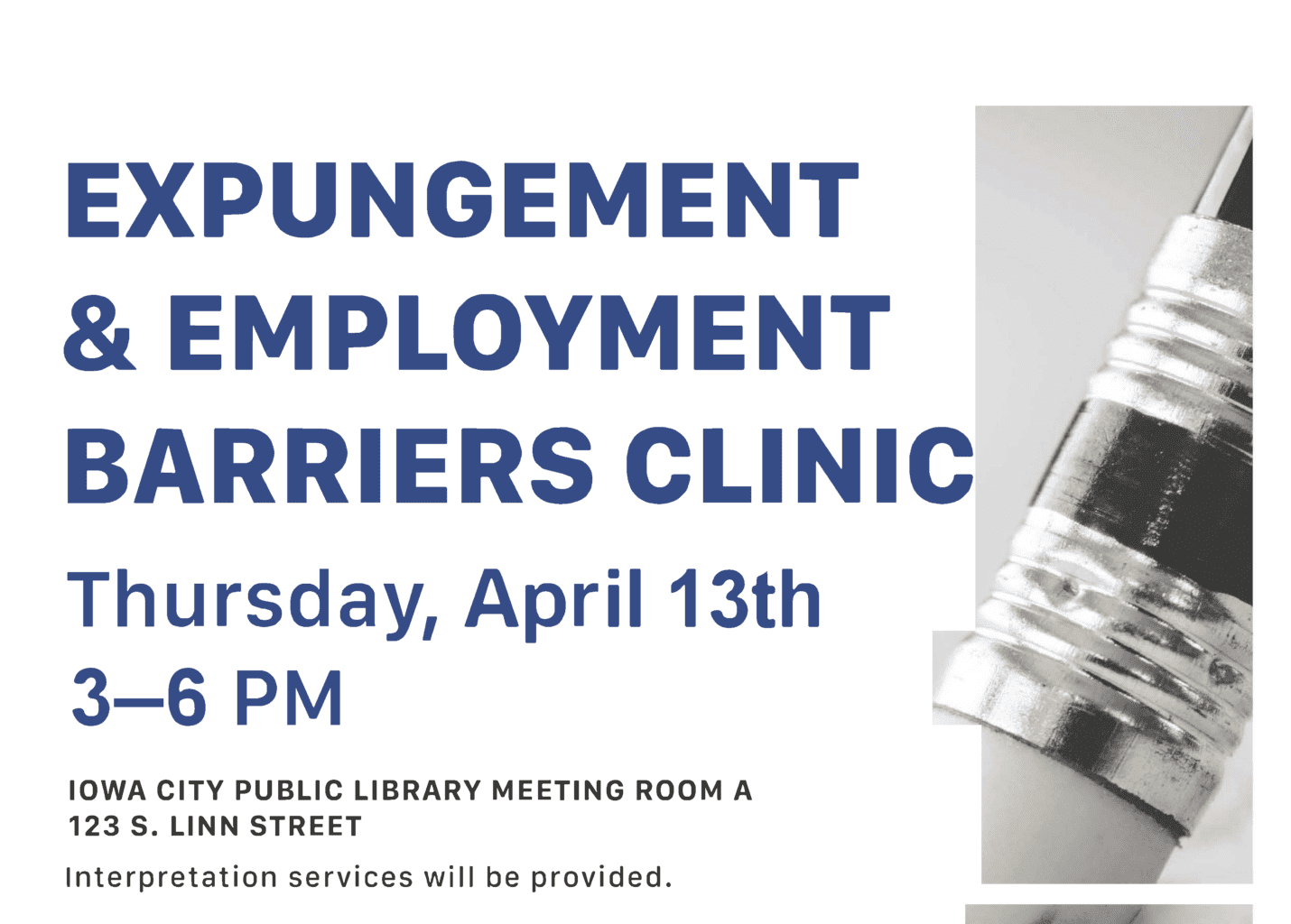 Thursday, April 13, 2023 –3:00pm to 6:00pm
Meeting Room A, Meeting Room B, Meeting Room C, Meeting Room D
Iowa Legal Aid and Shelter House are collaborating to provide a clinic aimed at alleviating the burdens of juvenile and criminal legal involvement. Pre-registration is required.
Registration can be done online at www.IowaLegalAid.org or over the phone by calling Iowa Legal Aid at 1-800-532-1275. The deadline for registration is 5 p.m., Thursday, April 6, 2023.
Once an application is submitted, Iowa Legal Aid will determine if the applicant meets the necessary requirements. Eligible applicants will be scheduled to receive one-on-one legal assistance from an attorney for issues related to criminal record expungement (the sealing of court files on a past criminal conviction), court debt, driver's license and vehicle registration issues, and criminal records that are being used in legally challengeable ways.
The Iowa City Public Library and Office of Equity and Human Rights are co-hosts of the seminar.
If you need disability-related accommodations in order to participate in this event, please contact the Library.
This event is open to the public.
Contact Information
Group Name: City of Iowa City Office of Equity & Human Rights
Group Type: Non-profit corporations
Primary Contact Name: Stefanie Bowers
Primary Contact Phone: 319-356-5022
Cosponsor
Cosponsor Organization: Iowa Legal Aid
Cosponsor Name: Abbi Cobb
Cosponsor Phone: 319-364-6108, Ext. 1322