Foiled Paperworks
April 2, 2022 @ 1:00 pm

-

4:00 pm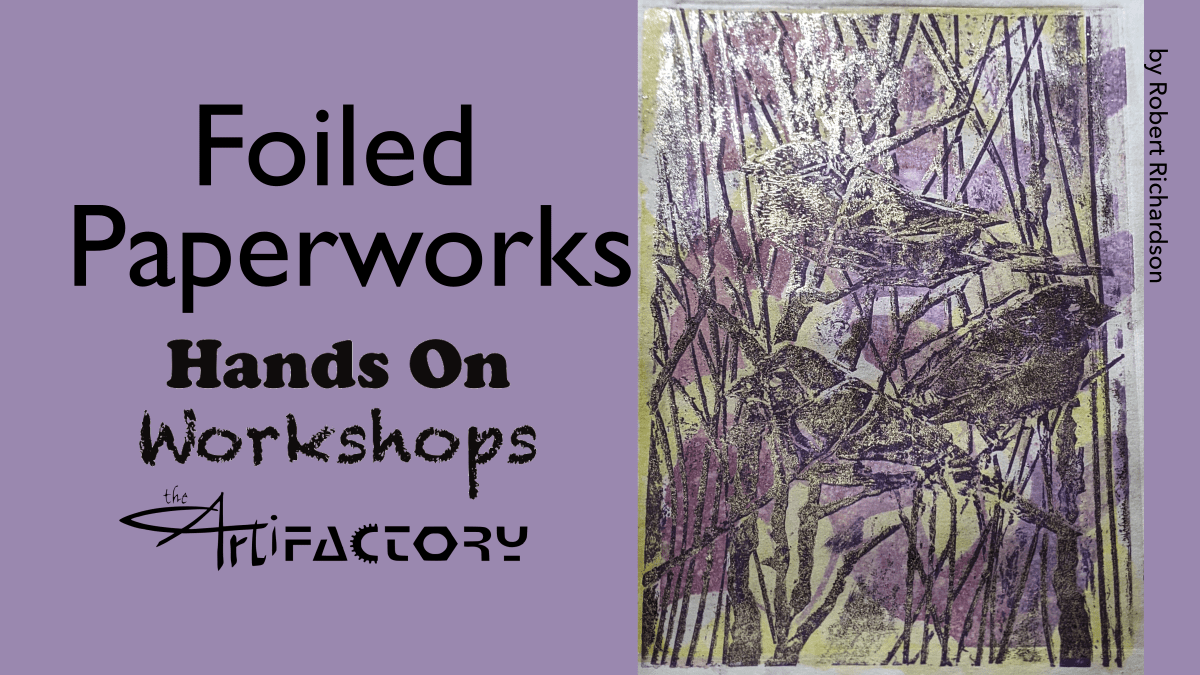 Foiled Paperworks will be an ongoing open foiled printmaking studio at the ArtiFactory. This can take many directions. Deanne Wortman and Robert Richardson will guide you through collagraphic printmaking and the application of hot stamped foil to those collagraphic prints along with bookmaking and other paper crafts.
We are going to combine the art of collagraph printmaking with hot and cold stamped foiling in this workshop. Collagraph printmaking uses a Plexiglas plate with a collage of paper, cardboard, string, plastic and other found objects glued to its surface. This collage of objects creates an irregular surface that is then inked in various methods and run through the etching press or printed by hand to create your image. The resulting image can either be figurative or abstract and inked like an intaglio plate or using a relief printing process. Different colors of ink can be used with each of the printing methods to build a multi-color image. The added twist is to combine hot stamping to the mix. Polymer mediums and gels can be applied to your print through the printing process or with stencils. Hot stamped foil is then bonded to the polymers in your print. The combination of colored ink and foil can create amazing results.
Plan on taking multiple sessions to take your print from start to finish. Sessions do not need to be consecutive. Continue making additional plates and prints by signing up for these ongoing sessions.
$20 per session (ink and foil included) 
Materials packs
additional $5 for 1-8″x10″ Plexiglas plate and 4-10″x13″ domestic etch paper
additional $5 for 8-10″x13″ domestic etch paper