Goran Ivanovic & Fareed Haque
Goran Ivanovic & Fareed Haque
June 23 @ 7:30 pm

-

10:00 pm

$23 – $35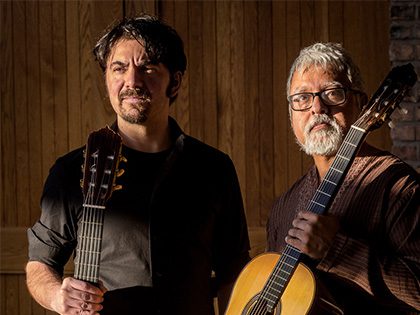 Intimate at The Englert
One World Series, Co-presented by Natural Talent Music LLC
This concert is an Intimate On-Stage Seating event.
 Intimate events at The Englert (approx. 50 audience members) bring both the audience and the performers onstage together. The connection between artist and audience is direct and electrifying
Show Description
Goran Ivanovic is a native of Croatia, a Balkan country torn by civil strife that engulfed the former Yugoslavia. The musical son of a Serbian father and a Bosnian Croat mother, he has crossed many boundaries in his life and in his music. While he was studying at the Mozarteum in Salzburg with masters such as Elliot Fisk and Joaquin Clerch, his parents were expelled from Croatia and were granted political asylum in the United States. Since his residence in this country, Goran's broad grounding in Classical music has been enriched by influences of jazz, Balkan, and world music.
Goran frequently performs at major festivals and concert halls in the world, as well as TV and radio performances. He has been featured on Chicago Tonight, WTTW, Dame Myra Hess concerts, 848, on Chicago Public Radio. As a leader he has released 7 albums: 1999 Guitar Solo, 2001 Macedonian Blues (with Fareed Haque), 2005 Seven Boats (with FH), 2006 Goran Ivanovic Group, 2007 Folk Tales (with Eastern Blok), 2009 Goran Ivanovic and Andreas Kapsalis Guitar Duo, 2011 Underwater (with Eastern Blok).
Fareed Haque is a modern guitar virtuoso. Steeped in classical and jazz traditions, his unique command of the guitar and different musical styles inspire his musical ventures with tradition and fearless innovation.
Haque has toured and recorded with Joe Zawinul, Billy Cobham, Dave Holland, Paquito D'Rivera, Sting, Zakir Hussain, Bob James, Joe Henderson and many others, in addition to co-leading groups with Tony Monaco, Paul Wertico, Goran Ivanovic, Garaj Mahal, and The Chicago Immigrant Orchestra. Haque has released numerous albums as a leader, in jazz, classical, world music and fusion styles, and is the recipient of numerous accolades and awards including Best World Guitarist, Guitar Player Magazine 2009, 2004 Acoustic Album of the Year, 2007 Independent Music Award, and Best New World Music Group in Chicago Reader Poll 2020.