Martin's Big Words Storytime
Martin's Big Words Storytime
January 12 @ 10:30 am

-

11:30 am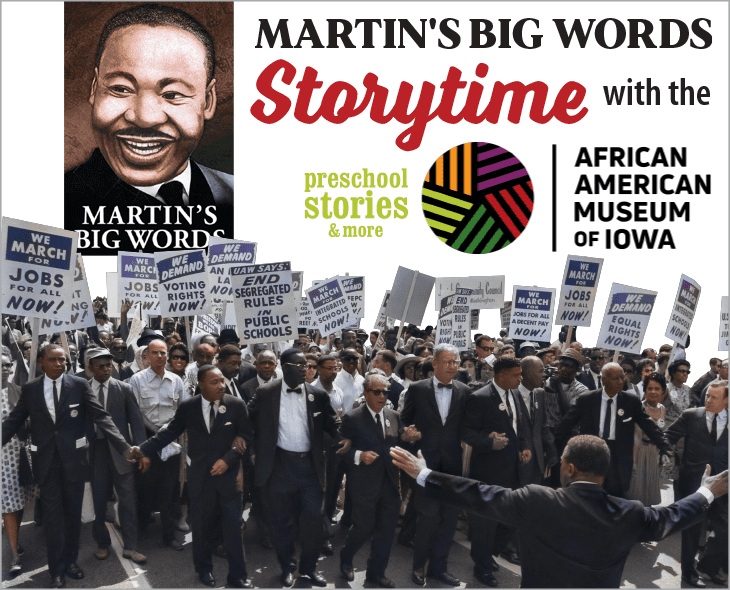 with the African American Museum of Iowa
Thursday, January 12, 2023 –10:30am to 11:00am
Martin's Big Words —Who was Dr. King? Why do people today still think his words are so important? Join us for a special Storytime about Martin Luther King and then work together to create a project to keep Dr. King's dream alive while learning cooperation and service with Jenny from the African American Museum of Iowa.
Preschool Stories & More is the Thursday Storytime program at the library and will often be a guest presenter, storyteller or performer! All ages are welcome to attend Preschool Stories and More every week, but some programs may be better suited for ages 3-5. If there is no guest presenter scheduled, Mari will do a traditional storytime!
————–
Preschool Stories & More es el programa de la hora de cuentos los jueves en la biblioteca y, a menudo, será un presentador invitado, un narrador o un artista. Todas las edades pueden asistir al programa cada semana, pero algunos programas pueden ser más para las edades de 3-5. Si no hay un presentador invitado, ¡Mari hará una hora de cuentos tradicional!
马丁的豪言壮语——谁是马丁路德金?为什么我们今天仍然认为他的话如此重要?加入我们的马丁·路德·金特别故事会,然后一起创作一个作品让金博士的梦想永存。同时我们会与来自爱荷华州非裔美国人博物馆的珍妮一起学习合作与服务。
星期四的故事会 通常会邀请嘉宾主持。部分活动的内容更适于3-5岁儿童,同时也欢迎各年龄段的参与者。如果没有安排嘉宾主持人,Mari 会为我们带来一个传统的故事会!
If you need disability-related accommodations in order to participate in this event, please contact the Library.
This event is open to the public.