MISS CHRISTINE "BITTERSWEET" ALBUM RELEASE
MISS CHRISTINE "BITTERSWEET" ALBUM RELEASE
July 23 @ 2:30 pm

-

5:00 pm

$12 – $15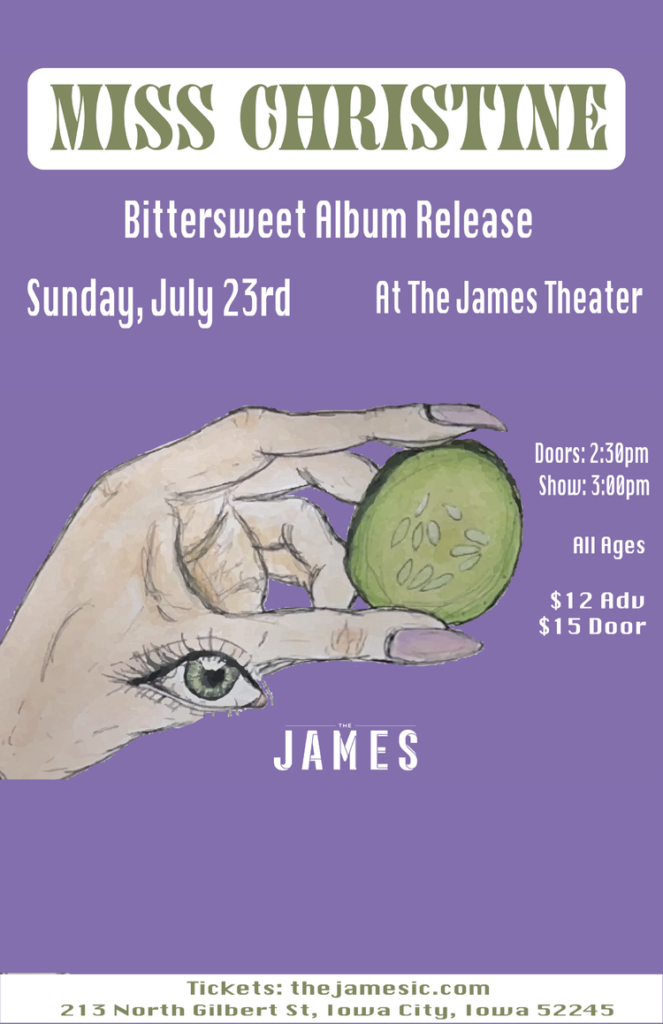 Miss Christine
Miss Christine is the Iowa Public Radio's June Artist of the month. Come celebrate the release of "Bittersweet" with us at The James.
Christine Moad (they/them) shatters preconceived notions and societal expectations with their music.
Moad, a bassist and singer-songwriter recording under the moniker Miss Christine, blends indie rock with blues and soul influences delivered with defiant punk attitude to open listeners' minds to possibilities beyond the gender binary. Their exploration of their own genderqueer identity inspires their lyrics, resulting in songs that are both intensely personal while simultaneously challenging the harmful stereotypes and expectations associated with gender and sexuality. Even the name Miss Christine turns the gender binary on its head. The "Miss" has nothing to do with womanhood and everything to do with absence and longing. In this case, it's the longing for truth and freedom from misguided external perceptions.
Maybe you'll "miss" the old Christine you thought you knew, but the authentic Christine isn't letting that stop them from speaking their truth.
Christine Moad has traveled the world from Tennessee to Monaco as a professionally touring bassist. They attended the Berklee College of Music before gaining experience as a session musician in Nashville. Christine defied expectations yet again by leaving Nashville behind for a farm near Iowa City where they write and record their original songs. Miss Christine released their debut solo album, Conversion, in 2019. The follow up, "Bittersweet," is out June 2023 on vinyl, CD, and Bandcamp.
With support provided by the Iowa Arts Council, a division of the Iowa Department of Cultural Affairs, and the National Endowment for the Arts, Bittersweet delves into the anxiety-ridden depths of the pandemic and takes on questions of identity, loss and self-worth. The songs pack dense emotion into compact, catchy arrangements that never waste a moment.