Spring Break- Teen Travel Edition-Japan!
Spring Break- Teen Travel Edition-Japan!
March 13 @ 1:00 pm

-

2:00 pm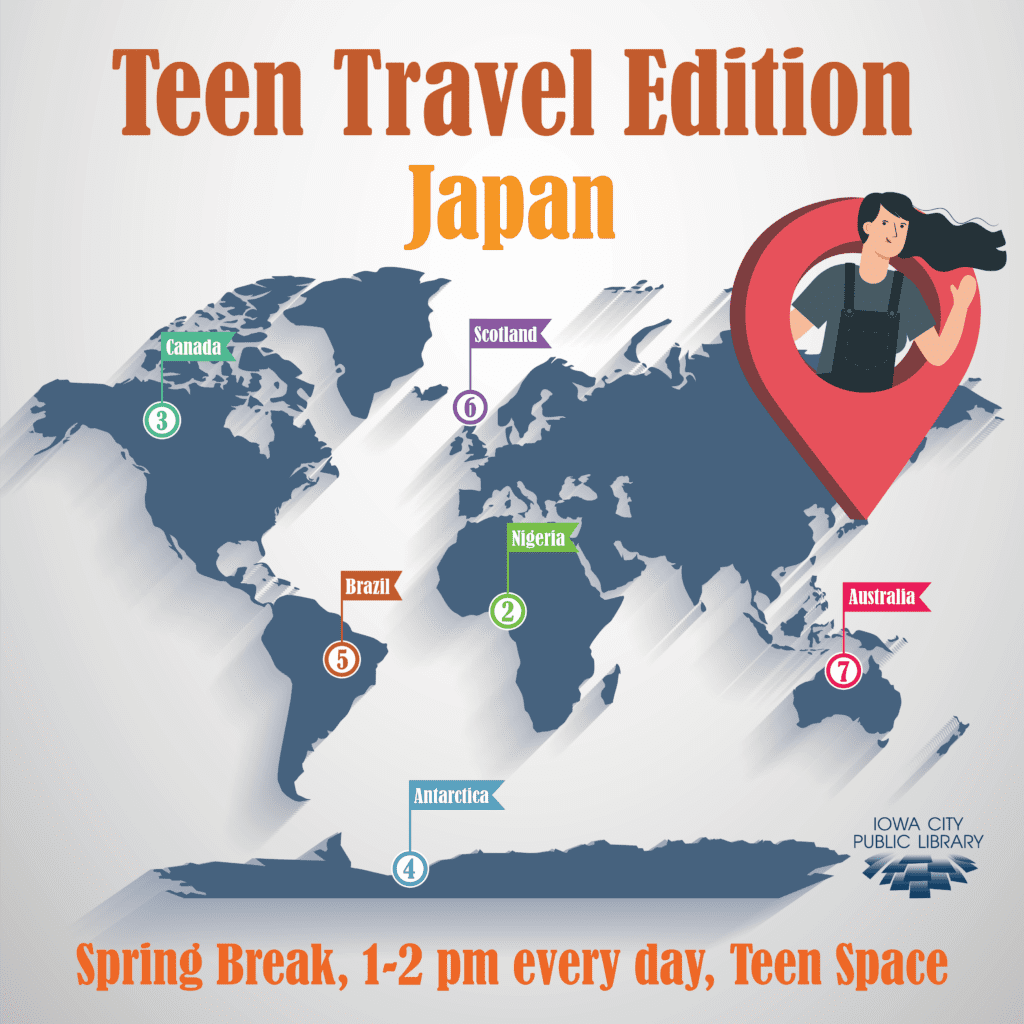 Monday, March 13, 2023 –1:00pm to 2:00pm
Want to travel the globe but your bank account has other ideas? ICPL's Teen Travel edition will offer a continent a day over Spring Break. Each day we'll explore a country on one of earth's seven continents. Some days we'll offer traditional crafts from that country, some we'll highlight artists and all will feature some type of snack from that locale. For every day you attend, you'll earn a vinyl sticker from that continent.
Monday 13th
Continent: Asia
Country: Japan. Explore anime and watch Howl's Moving Castle while making a few buttons.
Tuesday 14th
Continent: Africa
Country: Nigeria. Our planet has finite resources. We have become a throw-away society which creates many environmental problems. Today we head to Nigeria where we'll check out the women trying to solve Lago's waste problem, learn about an app called Trashcoin, and learn about ways to protect and preserve our planet.
Wednesday 15th
Continent: North America
Country: Canada. We're hopping to Canada today to check out artist Shary Boyle's artwork. Boyle's work includes themes of gender, identity, sexuality, power and class. After a short introduction of her work, you'll create your own work, inspired by Boyle.
Thursday 16th
Continent: Antarctica
Since Antarctica is covered in over 95% ice, it makes for a largely unpopulated continent. But there are penguins! Today we'll look at the penguin post office and learn more about his fascinating place and make some jewelry based on glaciers.
Friday 17th
Continent: South America
Country: Brazil. Brazilian wish bracelets, or Bahia bands are a 200-year old fashion accessory and are said to equip you with luck. Learn about Brazil, then make a bracelet and leave one.
Saturday 18th
Continent: Europe
Country: Scotland. Scotland is notorious for haggis, lochs (or lakes,) and kilts. Today we'll take a closer look at Mary Queens of Scots, one of Scotland's most famous figures and we'll make a felted sheep or highland cow.
Sunday 19th:
Continent: Australia
Country: Australia. We're finishing up our globetrotting in Queensland, Australia. Home to the Great Barrier Reef, we'll construct our very own using the provided supplies. Please note that a staff person will not be in the space today and this is a self-guided activity.
If you need disability-related accommodations in order to participate in this event, please contact the Library.
This event is open to the public.