The Pink House Wants Me Dead | Megan Roethler
The Pink House Wants Me Dead | Megan Roethler
February 17 @ 4:00 pm

-

6:00 pm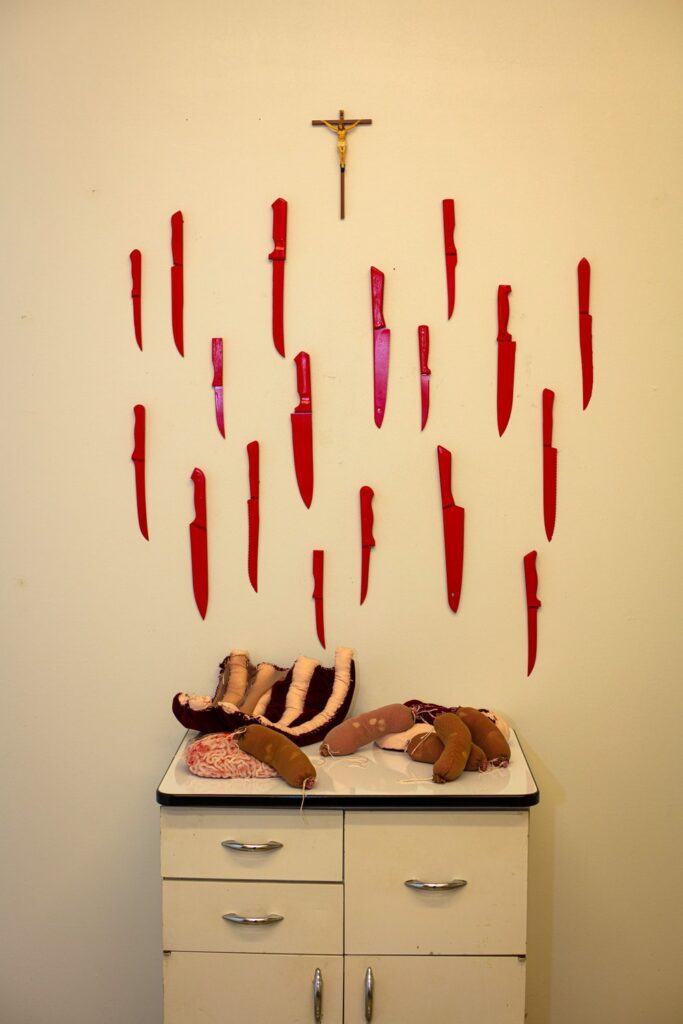 The Pink House Wants Me Dead is an honest reflection on untreated mental illness, family dysfunction, and internalized homophobia, misogyny, and ableism found in the different community structures of my childhood.
Using found objects, personal possessions, and family relics, new spaces are created that speak to the complicated and often abusive nature of growing up queer and neurodivergent within a white, heteronormative, neurotypical community.
The work intertwines violence, shame, guilt, familiarity, and gallows humor to manufacture unsettling visages resembling domestic spaces. These sculptures evoke both disgust and arousal through the juxtaposition of brightly colored fabric and organic matter. The tension between the two parallels the perception of 'the other' within the family home, church, school,and larger rural community.
About the artist:
Megan Roethler attended the University of Northern Iowa, majoring in fine arts and minoring in art history. After four years, she graduated with her Bachelor of Fine Arts degree and certification in museum studies. Her work heavily focuses on hand-sewn sculptures and the incorporation of recycled, impermanent material. The subtext of Roethler's work is often on the parallel power dynamics of the art world and outside society, the alienation of "craft" from art history, the subsequent isolation of women and queer makers, and violence wrought from the white patriarchy.
Roethler's work has been exhibited in several locations such as, Woman Made Gallery; Chicago, IL, The Dubuque Museum of Art; Dubuque IA, The Charles H. MacNider Art Museum; Mason City IA.
She received the Guillaume Grant in 2019 and was featured in the Fall 2019 issue of Uprising Magazine.
@meg_rat22