Timothy Donnelly & Christine Kwon
Timothy Donnelly & Christine Kwon
April 20 @ 7:00 pm

-

9:00 pm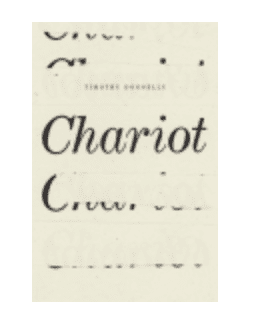 Prairie Lights
Please join us with poets Timothy Donnelly and Christine Kwon, who will read from their new poetry!  Timothy Donnelly will read from his fourth collection of poems, Chariot."If Whitman had had a young kid and a Brooklyn apartment, too many bills, and stack of takeout menus in the top drawer of his Ikea desk, he would have written these poems…"—Dan Chiasson, The New Yorker
Timothy Donnelly is the author of The Problem of the Many (Wave, 2019), The Cloud Corporation (Wave, 2010; Picador, 2011), winner of the 2012 Kingsley Tufts Poetry Award,  Twenty-seven Props for a Production of Eine Lebenszeit (Grove, 2003), and the chapbook Hymn to Life (Factory Hollow Press). With John Ashbery and Geoffrey G. O'Brien he is the co-author of Three Poets published by Minus A Press. He has received fellowships from the New York State Writers Institute and the Guggenheim Memorial Foundation, and he is the Director of Poetry at Columbia University School of the Arts.  He lives in Brooklyn with his family.
Writers' Workshop graduate Christine Kwon will read from her debut poetry collection, A Ribbon the Most Perfect Blue, winner of the Cowles Poetry Book Prize. "These poems luxuriate on elegance in a way that feels entirely necessary, the way Garbo's eyes lit up the Great Depression or Julie London's voice puts you in the moods to open your flower. Kwon's casually gorgeous lines are the best thing since melted butter."—D.A. Powell
Kwon's work has appeared in The Recluse (The Poetry Project), Joyland Magazine, The Columbia Review, and The Harvard Advocate, and are forthcoming from Copper Nickel, The Xavier Review, The Tusculum Review, The Lincoln Review, and Annulet. She lives in New Orleans with her partner and three cats, Trotsky, Lady, and Twombly.