Totally Tweens: Comics & Cookies: New Kid
Totally Tweens: Comics & Cookies: New Kid
February 23 @ 4:00 pm

-

5:00 pm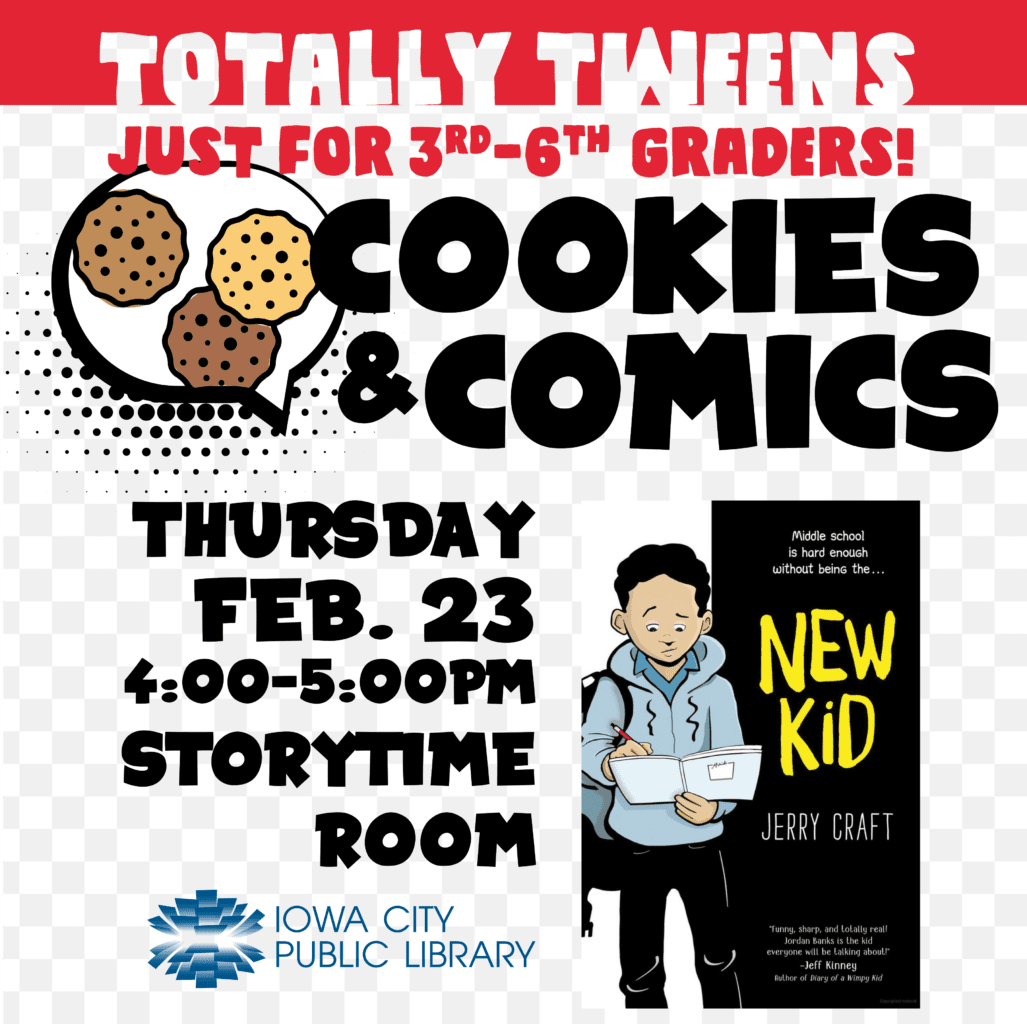 Thursday, February 23, 2023 –4:00pm to 5:00pm
Tweens are invited to a monthly meet-up to discuss graphic novels. We'll be talking about a different book each month and doing activities based on them. Plus, cookies will be served!
This month, we'll discuss "New Kid" by Jerry Craft. "New Kid" is about starting over at a new school where diversity is low and the struggle to fit in is real. Jordan Banks loves nothing more than drawing cartoons about his life. But instead of sending him to the art school of his dreams, his parents enroll him in a prestigious private school where Jordan is one of the few kids of color in his grade.
—
Los preadolescentes están invitados a una reunión mensual para hablar sobre novelas gráficas. Estaremos hablando de un libro diferente cada mes y haciendo actividades basadas en ellos. ¡Además, se servirán galletas!
Totally Tweens 每月一次邀请3-6年级同学们一起阅读和讨论漫画小说。每期活动我们将讨论一本新书并开展相关活动,还有饼干供您享用!
本月我们将探讨 Jerry Craft 的漫画书《新来的》("New Kid"),讲述了 "新来的"学生乔丹转到一所绝大多数是白人的新学校重新开始学业的各种挣扎与适应。 Jordan Banks除了漫画别无它好,最想去上艺术学校,但他的父母却把他送进了一所著名的私立学校,在那里乔丹是年级中为数不多的有色人种孩子之一。
If you need disability-related accommodations in order to participate in this event, please contact the Library.
This event is open to the public.