World Languages Storytime: Korean
World Languages Storytime: Korean
July 6 @ 1:00 pm

-

1:30 pm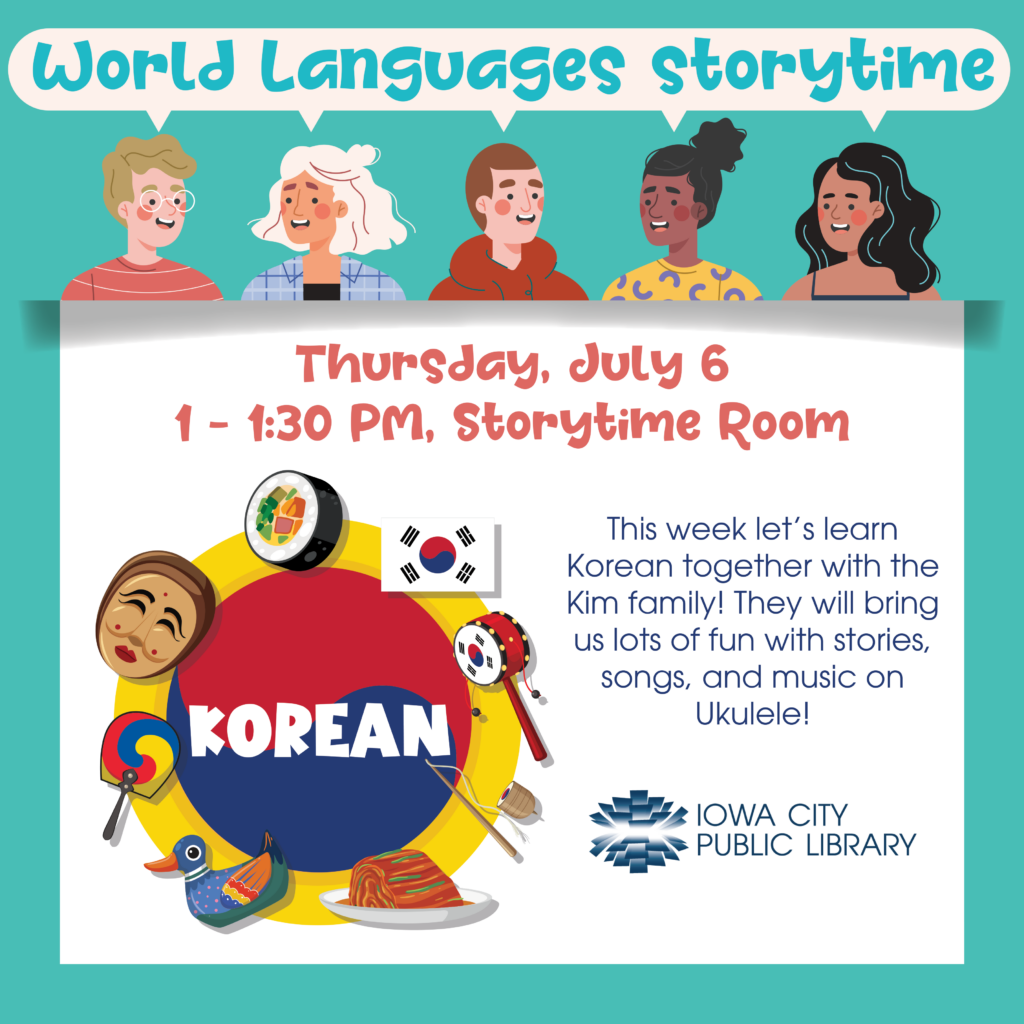 Thursday, July 6, 2023 –1:00pm to 1:30pm
World Languages Storytime is a new Summer Reading Program series that shares fascinating stories and some basic vocabulary in different languages. Join us every Thursday afternoon from June 8th to Aug. 3rd for a fun-filled bilingual storytime (in English and one other language) and learn how to become a polyglot! No language skills necessary.
Do you want to learn more about Korean traditions? Or even try a little bit of the popular K-Pop culture? This week let's learn Korean together with the Kim family! They will bring us lots of fun with stories, songs, and music on Ukulele!
세계언어 스토리타임: 한국어
세계언어 스토리 타임은 새로운 여름 독서 프로그램으로, 다양한 언어로 재미있는 이야기를 함께 읽고 쉬운 표현을 익히는 시간입니다. 7월 6일 부터 8월 3일 까지 매주 목요일 오후에 이중언어 스토리 타임을 함께 즐겨요. 한국어 스토리 타임을 통해 다중언어를 구사하는 방법을 함께 배워봅시다. 한국어를 전혀 몰라도 함께 즐길 수 있습니다.
한국 전통 문화에 대해 궁금하신가요? 아니면 한국 노래를 불러 보고 싶으신가요? 유라, 유안이네와 한국어 책읽기를 함께해요!
世界语言故事会是今年暑假阅读计划的全新系列活动。6 月 8 日到 8 月 3 日期间每周四下午我们将举办一期英语和另一语种的双语故事会,和我们一起来分享不同语言的奇妙故事和一些基本词汇,学习怎样通晓各种语言!无需外语基础。
你想了解更多韩式传统吗?或者尝试一下当红的韩国流行音乐? 本周让我们和Kim家庭一起学习简单韩语,她们将带来有趣的故事和好听的音乐。
—
World Languages ​​Storytime es una nueva serie de programas de lectura de verano que comparte historias fascinantes y un poco de vocabulario básico en diferentes idiomas. ¡Únase a nosotros todos los jueves por la tarde desde el 8 de junio hasta el 3 de agosto para una hora de cuentos bilingües llena de diversión (en inglés y otro idioma) y aprenda cómo convertirse en un políglota! No se necesitan conocimientos de idiomas.
¿Quieres aprender más sobre las tradiciones coreanas? ¿O incluso probar un poco de la cultura popular K-Pop? ¡Esta semana aprendamos coreano junto con la familia Kim! ¡Nos traerán mucha diversión con historias, canciones y música en Ukulele!
If you need disability-related accommodations in order to participate in this event, please contact the Library.
This event is open to the public.