World Wednesday: Omari's Big Tree and the Mighty Djembe
World Wednesday: Omari's Big Tree and the Mighty Djembe
July 19 @ 1:00 pm

-

2:00 pm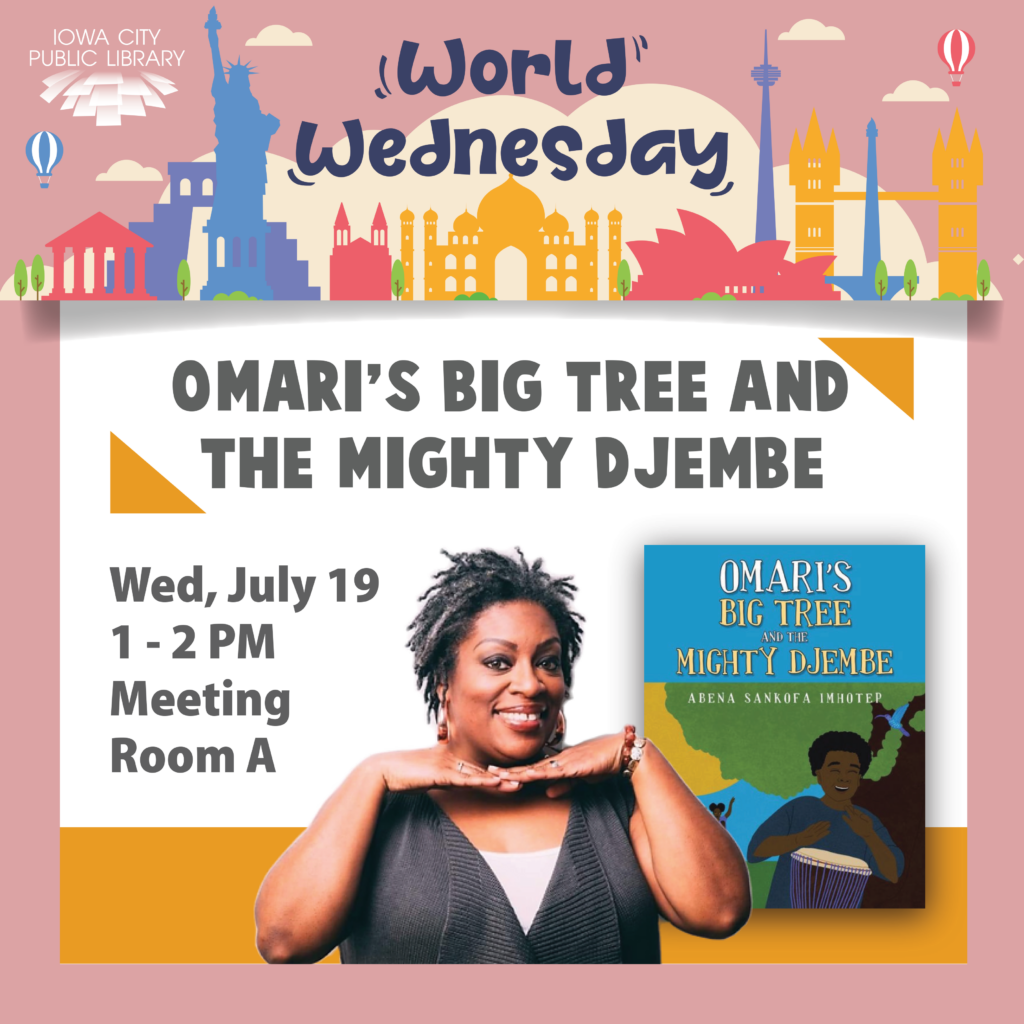 Wednesday, July 19, 2023 –1:00pm to 2:00pm
Meeting Room A, Meeting Room B, Meeting Room C
On Wednesdays during our Summer Reading Program, join us for a different event every week to broaden our knowledge of cultures around the world!
Join Iowa author Abena Sankofa Imhotep for a storytime reading of her picture book, Omari's Big Tree and the Mighty Djembe!
Abena loves to encourage children to use their minds, their hearts, and their imaginations. She has launched several organizations dedicated to literacy, education, and making our world a better place for everyone. Omari's Big Tree and the Mighty Djembe is Abena's first book. She lives in central Iowa (but not on a farm!) with her family and we are excited to welcome her to Iowa City!
—
¡Los miércoles durante nuestro Programa de lectura de verano, únase a nosotros en un evento diferente cada semana para ampliar nuestro conocimiento de las culturas del mundo!
¡Únase a la autora de Iowa, Abena Sankofa Imhotep, para una lectura de cuentos de su libro ilustrado, Omari's Big Tree and the Mighty Djembe!
A Abena le encanta animar a los niños a usar sus mentes, sus corazones y su imaginación. Ha lanzado varias organizaciones dedicadas a la alfabetización, la educación y a hacer de nuestro mundo un lugar mejor para todos. Big Tree and the Mighty Djembe de Omari es el primer libro de Abena. Ella vive en el centro de Iowa (¡pero no en una granja!) con su familia y estamos emocionados de darle la bienvenida a Iowa City.
世界星期三
每周三和我们一起参加各种各样的活动,了解世界各地的特色文化!
来自爱荷华州的作家 Abena Sankofa Imhotep 将为我们阅读她的绘本作品 《奥马里的大树和 强壮的戴比》。
Abena 喜欢鼓励孩子们开发思想,心灵和想象力。她曾发起了几个致力于素养教育的组织以期让我们的世界变的更加美好。 《奥马里的大树和 强壮的戴比》是她的第一部作品。她和家人住在爱荷华州中部城市,让我们热烈欢迎她来到爱荷华市!
If you need disability-related accommodations in order to participate in this event, please contact the Library.
This event is open to the public.