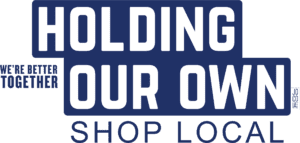 To Iowans, there is nothing more important than family, friends, and community. During times of tragedy, we are resilient, we are strong, and we are proud. While every community throughout the world is weathering a Great Big Storm right now, here in the Iowa City area we will be Holding Our Own by supporting local businesses, helping those in need, and working together so that we come out BETTER TOGETHER.
Thanks to the support from MidWestOne Bank, West Bank, GreenState Credit Union, Great Western Bank, Hills Bank, Two Rivers Bank, U.S. Bank, and CBI Bank and Trust, and other area partners, the Project Better Together team has created a community-wide Shop Local program to help encourage and motivate local spending at Johnson County local businesses. The Holding Our Own Shop Local program intends to motivate over $1,000,000 of local spending through showcasing and incentivizing dollars spent. Click here to see the full details.
Shop Local Program:
Starting June 22nd, for every $150 spent shopping local, receive a $20 gift card of YOUR choice to a local business. Plus an additional $5 will be automatically donated to the Black, Indigenous, and People of Color (BIPOC) and Immigrant Business Grant Fund.