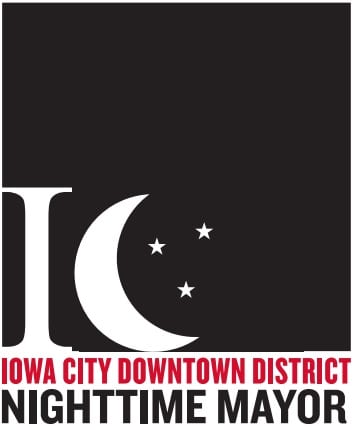 In the spring of 2017, the Iowa City Downtown District (ICDD) announced Angela Winnike as the organization's Nighttime Mayor, a new position intended to further enhance Downtown's night economy. Winnike served in the position for almost two years before recently moving to the West Coast.  The ICDD is now looking for a new Nighttime Mayor to fulfill the position as nightlife, arts & culture liaison.
When first introduced in 2017, the Downtown Iowa City Nighttime Mayor position was one of the first in the United States, inspired by similar positions in Europe and notably, Amsterdam. Since then, cities throughout the U.S. have introduced similar staff positions to support the very different needs of nightlife businesses, and arts, and culture venues.  Cities are discovering that a thriving nightlife is a critical attractor of a creative workforce and that the support needed for these entities requires a tailored approach that varies dramatically from those of a traditional 9 to 5 business.
"The Nighttime Mayor position has offered us a great opportunity to better serve our businesses operating after 5pm and work with student organizations looking for alternative programming," said Nancy Bird, Executive Director. "We know our nightlife is an important asset.  So we have refined the current application to address the lessons learned by Winnike and other night manager roles over the past two years to establish a stronger presence. The position will be working primarily during daytime hours with limited levels of evening work and is designed to collaborate closely with our cultural venues, restaurants, hotels."
The role with Iowa City Downtown District will continue to pursue the directive of the 2016 ICDD Strategic Plan's nighttime initiative.  This round, however, it will be bolstered by a newly established Nightlife, Arts & Culture Council. The new Nighttime Mayor will be a full-time position with the ICDD, focusing the additional hours on nightlife and arts-driven marketing.
The right person for the job must live in the Iowa City, Coralville, North Liberty area; have a background in communications, marketing or hospitality or similar fields; have a belief system that supports diverse, equitable, and inclusive settings; and have a love for downtown Iowa City's nightlife.
Interested in applying? You can throw your hat in the ring by applying sending the following items in one pdf digital copy to nightmayor@downtowniowacity.com:
Cover letter with interest statement (page 1)
Personal biography up to 250-words (page 2)
Resume (up to two pages)
Diversity statement (last page)
Application materials received by April 1, 2019 at noon will be considered for hire. Please research the ICDD organization and our mission at downtowniowacity.com to support any questions that may arise. Interviews of successful candidates are currently planned for the week of April 15, 2019.
###
Contact:
Executive Director, Nancy Bird
319-354-0863
nancy@downtowniowacity.com