Downtown Iowa City welcomes international art installation this June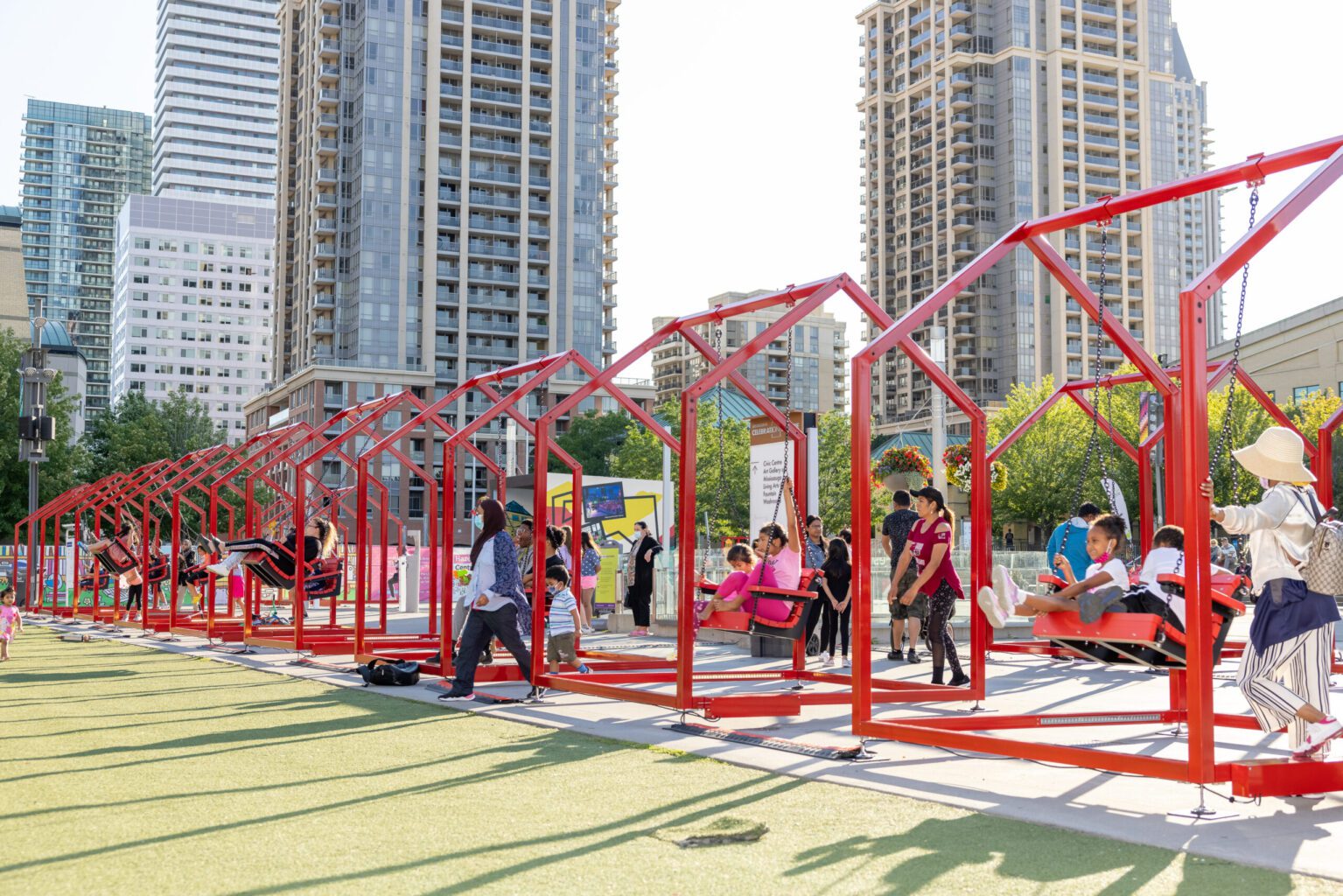 The Iowa City Downtown District in partnership with the City of Iowa City, Think Iowa City, and the Community Foundation of Johnson County will bring the international participatory public art installation, Mi Casa Your Casa 2.0 to Downtown Iowa City's pedestrian mall this June. Opening on the 10th this month, the summer art installation will encourage visitors to relax, swing, and play in the heart of downtown for an entire month at any time of day. A collection made up of 16 pieces, the framed houses each feature a two-person porch swing.
The Mi Casa, Your Casa 2.0 red frames, each in the shape of a small house, set alongside one another will be placed in three main areas of the pedestrian mall. Inside each "casa", there is a swing and a ring of lights lining the bottom. When the house is empty, the lights glow dimly to welcome the next visitor. Once someone steps inside, the lights release a more powerful glow, indicating that someone is home. The swing inside invites the passer-by to settle comfortably in the small houses and to relax by swaying quietly in a unique environment.
"The investment in different areas of public art has been part of the Iowa City Downtown District's work for many years. Last summer, we first worked with Creos to bring the Loop art installation to downtown during the month of July", said Director of Creative Services, Betsy Potter. "The Loop in 2021 brought great excitement to the pedestrian mall. There is no doubt that Mi Casa will be yet another great invitation to the community and visitors to come downtown for some fun".
Mi Casa, Your Casa was created by Hector Esrawe & Ignacio Cadena, two Latin American artists and designers who were inspired by the mercados of Latin America, lively street markets where human connections are made every day. The installation features a series of three-dimensional red frames that illustrate the warmth, comfort, and safety of our homes. With their basic shape recognizable by all, the tiny houses form a blank canvas for community engagement and activity, where people of all ages can socialize in a playful spirit. "We are inspired by ordinary objects that surround us. We are influenced by our context and our everyday activities which allow us to visit and share with different cultures and different individuals. We are inspired by history, art, music, architecture, books, and the city itself. We firmly believe that these are the goals of design: To weave and generate interactions, human connections, and emotions, to relate to users, and to enhance and translate our inheritance and skills into new expressions." said creators, Hector Esrawe & Ignacio Cadena.
"'Mi Casa, Your Casa' is a strong and subtle symbol in a geometric shape that will allow us to build a unique iconic piece, one that creates a continuous dialogue with audiences and capable of continuous changes and mutations," say Esrawe and Cadena. The Iowa City Downtown District hopes that some of this dialogue amongst those that engage with the exhibit will be centered around housing in Johnson County. Through a partnership with the Community Foundation of Johnson County, the Mi Casa Your Casa 2.0 will encourage conversation and direct commitment to Johnson County's local housing initiatives. For any and every photo of the Mi Casa Your Casa 2.0 installation that is posted and tagged @downtowniowacity, #downtowniowacity, #micasayourcasaic, $1 will be donated to JoCo Affordable Housing Coalition. Additionally, all community donations made will be matched by the Community Foundation of Johnson County.
The installation will officially open on June 10th, providing the perfect activity for families and those of all ages to visit Downtown Iowa City this summer, June 10-July 10th.
Details on the installation & credits:
Mi Casa Your Casa 2.0 – June 10-July10th
Free
#micasayourcasaic
#downtowniowacity
Creators: Esrawe + Cadena
Lighting and Interactive Conception: Serge Maheu
Tour producer: Creos
ABOUT THE CREATORS OF MI CASA, YOUR CASA
Hector Esrawe, Ignacio Cadena
Esrawe is the founder of the cross-disciplinary design firm Esrawe Studio that
develops furniture and interior design solutions for commercial spaces. He is
inspired by traditional Latin American design, architecture and folk art, and his
works are playful, sometimes humorous, and organic.
Cadena is owner and creative director of CADENA+ASOC. CONCEPT DESIGN, which
combines art and science using painting, graphic design, photography, sculpture,
video, marketing, architecture, and industrial design to generate award-winning
works.
Esrawe and Cadena brought their design firms together more than six years ago to
form E + C.
ABOUT CREOS
A leading agency for temporary public interactive installations, Creos connects
owners, creators, and distributors of public art around the world so installations can
travel and shine on the international stage.
Creos offers a portfolio of very diverse installations that give visitors a unique
sensory and interactive experience that changes based on the location and the
users. Creos also offers expert consulting services for technology and art in public
spaces, and project management services for the creation and development of
participative installations.