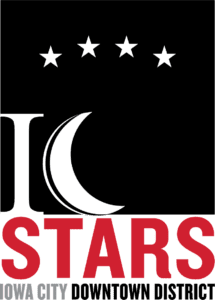 The Iowa City Downtown District is a unique place, who's vibrancy is intertwined with exceptional customer service. As a way to recognize outstanding individuals that go above and beyond in their position, ICDD is exited to launch this new employee recognition program: IC STARS.
IC STARS elevates workers specifically from Downtown Nightlife. Customers and co-workers are encouraged to nominate nightlife employees who demonstrate/have a determined/exceptional work ethic and help contribute to ICDD's nightlife goals in making Downtown clean, safe, and vibrant. Desired candidates will represent these 3 values.
Clean – Can be making the spaces you visit and use a point of pride that is maintained. This employee wants to have the business put its best foot foward for first impressions.
Safe – An employee that is a good steward of the patrons in their space or in Downtown and intercedes or manages patrons who interupt that environment to ensure guests feel comfortable and looked after.
Vibrant – Makes you feel welcome, the interactions are positive, enhances the enjoyment of your evening, you hope they are the person helping you the next time you visit. When you think of the business, this person is one of the faces you think about.
What is defined as a nightlife business:
Restaurant
Bar
Hotel/Hospitality (PM shift)
Arts Organizations/Performance Venues
Every 3 months nominations will be reviewed and select one extraordinary employee and their employer to be recognized. The selected employee will also receive a $250.00 Iowa City Downtown District Gift Card and recognition for both themselves and their employer.