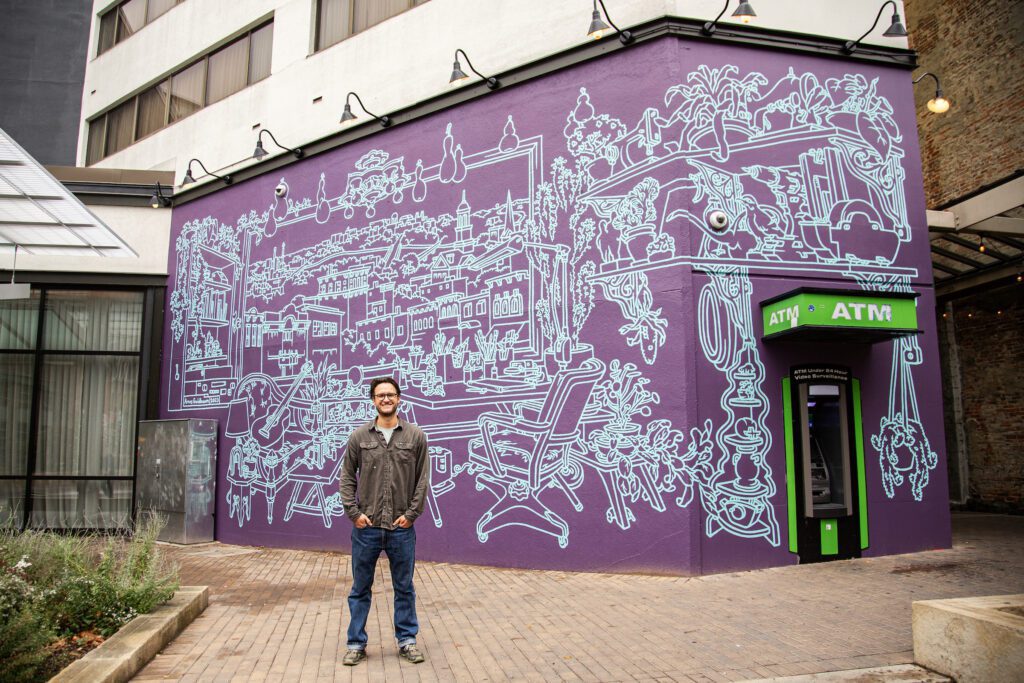 New Mural in the Heart of Downtown Iowa City
– Artist Pays Homage to Iowa City with Imaginative Cityscape
(Iowa City, IA) – September 13, 2023 – The Iowa City Downtown District in partnership with Graduate Iowa City is excited to share a new mural in downtown Iowa City. Painted by artist Amos Goldbaum, the mural is located on the northeast-facing wall that serves as a front porch to the Graduate Hotel in the Pedestrian Mall and a backdrop to the heart of Downtown Iowa City. The mural is part of the Iowa City Mural Program, sponsored by GreenState Credit Union.
Amos Goldbaum is a line-drawer, painter, street peddler, and muralist from San Francisco who attended Grinnell College where he received the Ninth Semester Art Fellowship. His work focuses on history and place through his clear and complex linework. Amos' mural pays homage to Iowa City with references to the buildings and objects depicted in the scene.
"The room is a living and creative space with a desk, chairs, and many materials for drawing, painting, writing, and making music. The room is a combination of my own home studio and other friends' spaces. The objects in the room are the kind of plants, books, and random objects that we surround ourselves within our homes and workspaces, which are often the same place. The big picture window in the center looks out over an imaginative view of Iowa City, placing the room in this unique location," said muralist Amos Goldbaum.
"Graduate Hotel and its owners, AJ Capital, were excited to partner with the Iowa City Downtown District to make this happen. Amos Goldbaum executed a unique concept that is reflective of the Graduate's value of local storytelling, as the viewer looks through the window onto the cityscape. We are thrilled to participate in the Iowa City Mural Program, and further support art installations downtown," said Jay LeaVesseur, the General Manager of Graduate Iowa City.