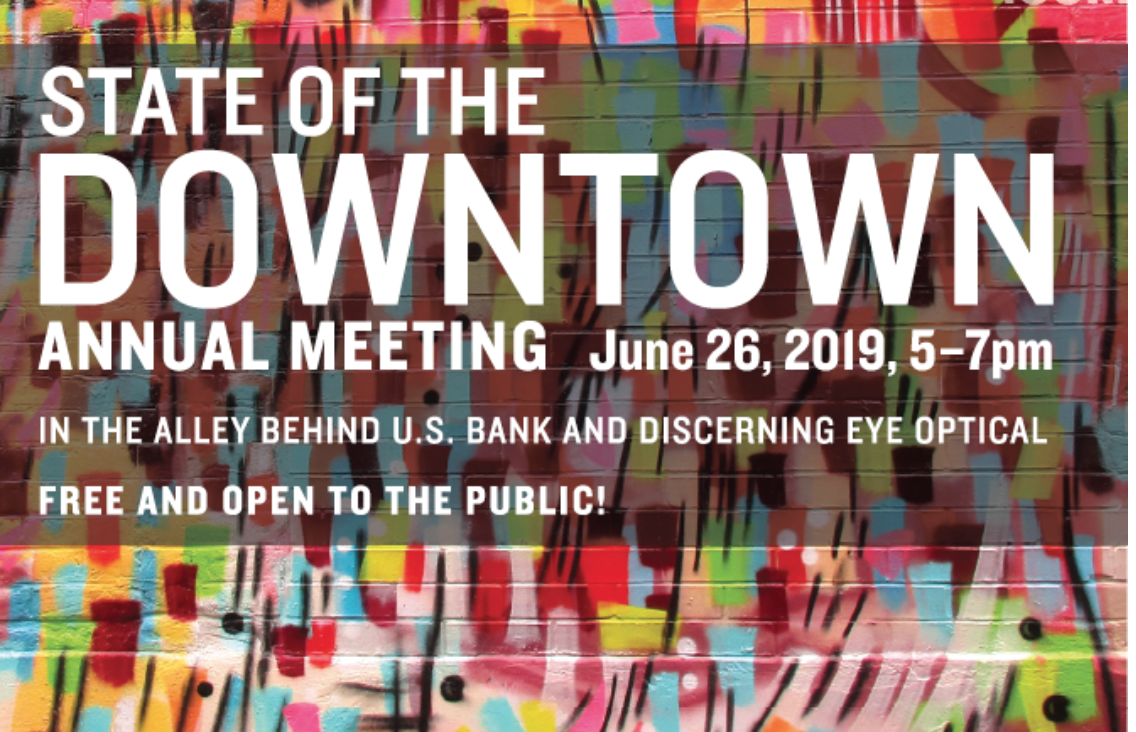 The Iowa Downtown District will host the State of the Downtown annual meeting on June 26th, from 5-7pm, in one of the areas with that has significant future potential – the alleys.  The event is open and free and invites the community, civic leaders, business partners, and Downtown members to hear highlights from the organization and its future focus.
Downtown Iowa City continues to grow competitively in the state as an economic engine, increasing in real estate value and business interest, according to the most recent Annual Report from the Iowa City Downtown District (ICDD). The annual mission report will be released during the State of the Downtown event and will include data on the health of the city's heart, the status of key initiatives of the organization, and planned future investments.
"We added over 30 new businesses this year and are really growing in business density.  Where there was once one large store, now there may be several within the same footprint.  Property owners are working to tailor their properties to support the evolution in retail and the need for smaller spaces,"  said Nancy Bird, Executive Director of the ICDD.
While additional businesses are a good indicator of the continuing demand for downtown spaces, Bird says the community remains interested in two key vacancies – the old Brown Bottle Restaurant at 115 E. Washington and the old Field House Bar on 111 E. College Street on the Ped Mall.  Owners of these properties have working plans in place and she remains hopeful that permit applications will go to the City this year.  "The renovation of older properties can bring more design complexities to a project but make for a more robust development at the same time," stated Bird.  "It takes time, expertise, and City support."
Downtown traffic has changed over the past several years with the presence of 6 hotels and a growing visitor market.  Michelle Galvin, ICDD Board President, says the ICDD remains committed to balance.  "We will continue to foster a place that's fun, dynamic, and inclusive and that the entire community will enjoy."
The ICDD's annual meeting will celebrate progress in public art, the District's special events and event series, the hard work of Downtown businesses and construction progress of the last phase of the Pedestrian Mall update due to end in October of this year.
The unique setting for the event is an intentional decision to showcase what is possible in some of downtown's most underutilized pathways. Improvements that will be made to support the event include public art, lighting, deep cleaning, and plantings to tease out the potential that all alley spaces have in downtown Iowa City.
STATE OF THE DOWNTOWN EVENT DETAILS
WHEN | June 26, 2019 from 5-7pm | Program Begins at 5:30pm
WHERE | Private Alley Space behind Discerning Eye Optical 41.66057, -91.53235. Enter via the alley entrance by Studio 13. https://drive.google.com/openid=1NvXsLL7A8Pf9ZHBsilWoY1UAck4yz1gR&usp=sharing
PARKING | The best location for parking is the Clock Tower or Dubuque St parking ramps