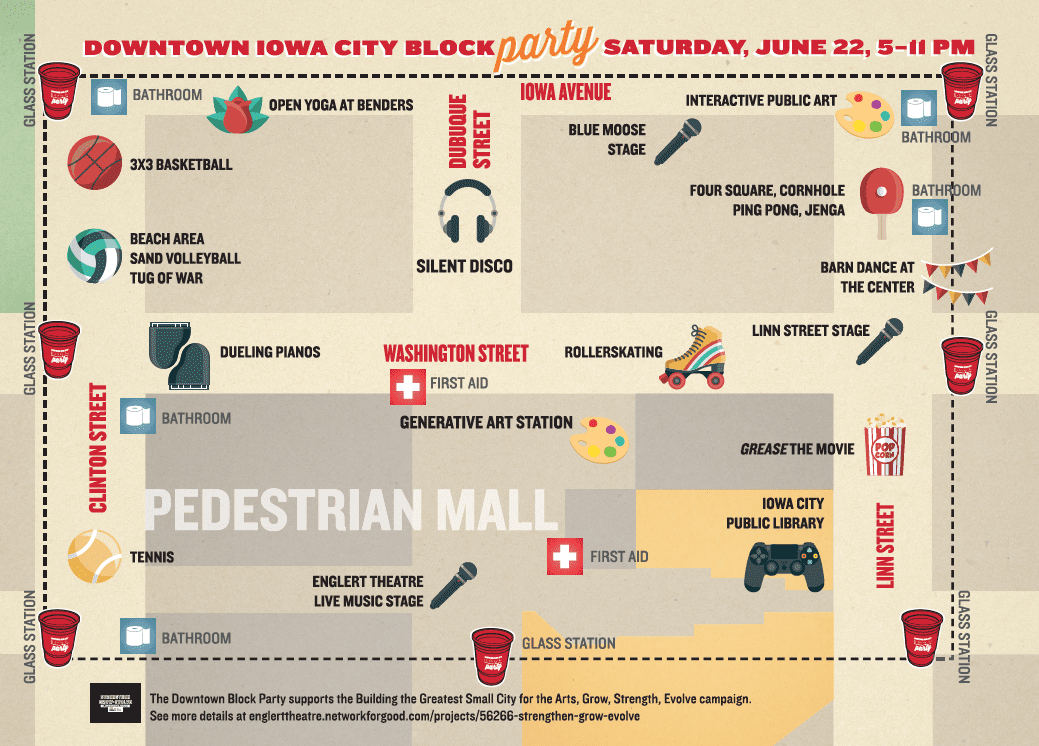 The 3rd annual summer Downtown Block Party returns for 2019, this Saturday throughout 12 blocks in the heart of Iowa City. The event that began as a larger nighttime initiative under the Iowa City Downtown District (ICDD) that included the Nighttime Mayor position aims to celebrate downtown Iowa City and the existing night economy.
On June 22nd, the ICDD will set up over 30 programming elements in partnership with dozens of community partners including some annual favorites like the Dueling Pianos sponsored by Hills Bank & Trust & ICAAR, Silent Disco sponsored by UICCU (soon to be GreenState), Sand Volleyball and new features like  3×3 street basketball, roller skating rink, break dancing competition. "This year, we have expanded the footprint to take over all of Clinton St. Thanks to this extra space, we have more room to include more programming and more partnerships", said Betsy Potter, Director of Operations, Iowa City Downtown District. "The additional programming is thanks to new partnerships from local organizations and clubs, we are working with the Iowa City Public Library, UI Recreational Services, UI Summer Volleyball Camp, City of Iowa City Parks & Rec, The Center, The City of Literature, Prompt Press, UI Stanley Museum of Art & more", said Potter.
All of the programming for the event is completely free, the event instead sells event cups that allow attendees 21+ older to purchase and take their drinks from the bars and restaurants into the streets. Cups are able to be purchased before the event online or in person the day of the event at any of the 7 glass stations.
The event will also offer free parking all day on Saturday, June 22nd at all of the City of Iowa City parking ramps until Sunday at 10:30 to allow people to leave their vehicles overnight if necessary.
2:00 – 3:00pm at Brothers Bar & Grill Iowa City – Free Yoga in the beer garden (bring your own mat) programmed by Pedals & Poses
2:00-4:00pm at the Sand Volleyball Court on Clinton St – Free volleyball clinic with Iowa Volleyball Camp Coaches
3:00-4:00pm at Linn St Stage- Block Party Summer Jam Round 1 Breakdancing Competition
4:00 – 6:00pm on Linn St. Stage –Performers/programming (Reading Aloud, Salsa Dancing, Tempered Brass Ensemble, The Pomstastics) programmed by the Iowa City Senior Center
4:00 – 9:00pm on Clinton St. – Sand Volleyball Tournament (Pre-registration required – FULL)
4:00 – 11:00pm on Clinton St. – Tennis Courts (Pre-registration required – REGISTER HERE: https://docs.google.com/forms/d/e/1FAIpQLSe0pE341aB19dxuKce8jlytueSFy7eFF8w48dacXh9CuzIHJA/viewform?usp=sf_link) programmed by University of Iowa Recreational Services
4:00 – 11:00pm on Clinton St. – 3×3 Basketball Games (Pre-registration required – REGISTER HERE: https://docs.google.com/forms/d/e/1FAIpQLScvNK4l6LRh85u1LImgAhTGS3yHtHtNXb0NMTGYVaGE3Qwq4w/viewform?usp=sf_link)
4:00 – 11:00pm on Washington St. – Rollerskating Rink programmed by Iowa City Parks and Recreation Department
4:00 – 11:00pm – Beach Area programmed by the The Iowa Children's Museum
4:00 – 11:00pm on Linn St. – Yard Games (Ping-Pong, Four Square, Cornhole, Jenga)
4:30pm – Start selling wristband/cups – Pre-sale can start picking up their materials at booths
5:00 – 7:00pm -Outdoor Yoga and Challenges programmed by Benders Studio
5:00 – 8:00pm on Iowa Ave. by Clay AKAR– University of Iowa Stanley Museum of Art Interactive Public Art programmed by the University of Iowa Stanley Museum of Art
5:00 – 8:00pm in Black Hawk Mini Park – Generative Art Station programmed by Prompt Press
5:00 – 10:00pm on – Dueling Pianos sponsored by Iowa City Area Association of REALTORS® and Hills Bank and Trust Company
5:00 – 10:00pm at the Weatherdance Fountain Stage – The Englert Theatre Live Music Stage Tristen, Mystery Lights, and more | Downtown Block Party sponsored by Iowa Beverage (Cedar Rapids, IA), Coors Light, Miller Lite, Pabst Blue Ribbon, Lagunitas, New Belgium, White Claw and programmed by The Englert Theatre
5:00 – 5:45pm – Elly h.
6:00 – 6:45pm – The Mystery Lights
7:15 – 8:15pm – The Diplomats of Solid Sound
8:45 – 10:00pm –Tristen
5:00 – 11:00pm on Dubuque St. – Silent Disco DSM sponsored by UICCU
6:00 – 7:00pm on Linn St. Stage – Block Party Summer Jam Final Rounds
6:00 – 8:00pm in Iowa City Public Library – Open Video Game Play programmed by the Iowa City Public Library
7:00 – 8:00pm on Linn St. Stage – Drag Show programmed by Studio 13
7:30pm at MERGE Iowa City – Global Poetry Slam programmed by Iowa City UNESCO City of Literature
8:00 – 9:00pm on Linn St. Stage – Born Leaders United Fashion Show
8:30 – 9:30pm at the Iowa City Public Library – Jason Snell EEG performance – IC Block Party Art Workshop/Performance programmed by the The City of Iowa City Government
8:00 – 11:00pm at The Center – Barn Dance programmed by the Iowa City Senior Center
9:00 – 11:00pm on Linn St. – Grease the Movie programmed by FilmScene
10:00 – 11:00pm on Clinton St.Tug-of-War Tournament (Pre-registration required – FULL)