Book to Art Club
March 29 @ 4:00 pm

-

5:00 pm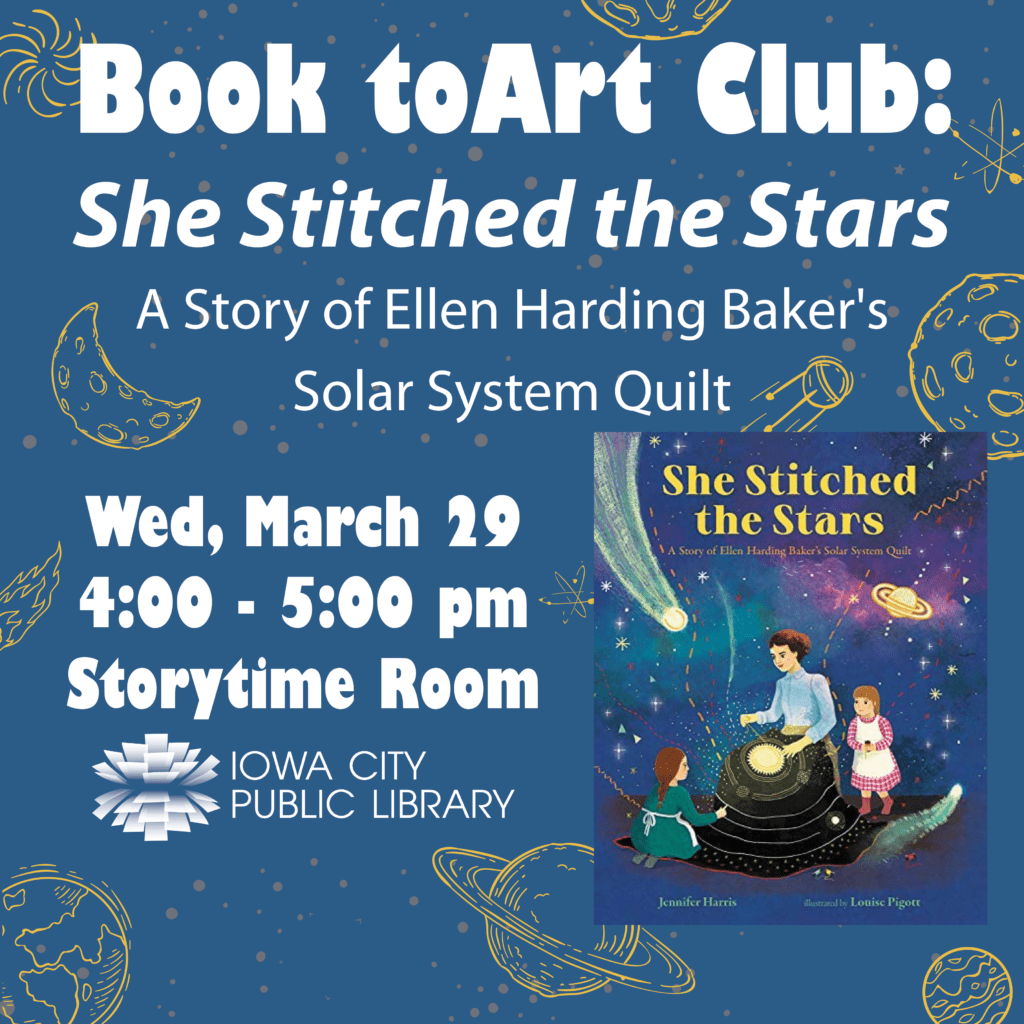 She Stitched the Stars: A Story of Ellen Harding Baker's Solar System Quilt
Wednesday, March 29, 2023 –4:00pm to 5:00pm
Book to Art Club is the last Wednesday of every month for preschool through 2nd Grade. Each month we will read a picture book and create custom art inspired by the story!
For Women's History Month, we will read She Stitched the Stars: A Story of Ellen Harding Baker's Solar System Quilt. Ellen, a Iowa storekeeper's wife and a mother, had a curiosity that reached far beyond the stratosphere. Today, Baker's quilt hangs in the Smithsonian's National Museum of American History. After the story, we will create our art project, hand-sewed constellation cards.
每月最后一个周三的Book to Art Club 阅读与创作活动面向K-2学生。每期活动我们将阅读一本绘本,并根据故事的主题创作自己的艺术作品!
三月是女性历史月。今天我们将阅读《绣出星星:艾伦哈丁贝克的故事》。艾伦是一个爱荷华州的主妇和母亲,而她的好奇心却远远抵达了宇宙深处。今天,她的太阳系被子作品被收藏在史密森尼国家历史博物馆中。阅读结束后,让我们尝试自己的艺术创作:手工缝制星座卡片。
— Book to Art Club es el último miércoles de cada mes para preescolar hasta segundo grado. ¡Cada mes leeremos un libro ilustrado y crearemos arte personalizado inspirado en la historia!
If you need disability-related accommodations in order to participate in this event, please contact the Library.
This event is open to the public.