Foiling Studio Group
March 18 @ 1:00 pm

-

4:00 pm

$20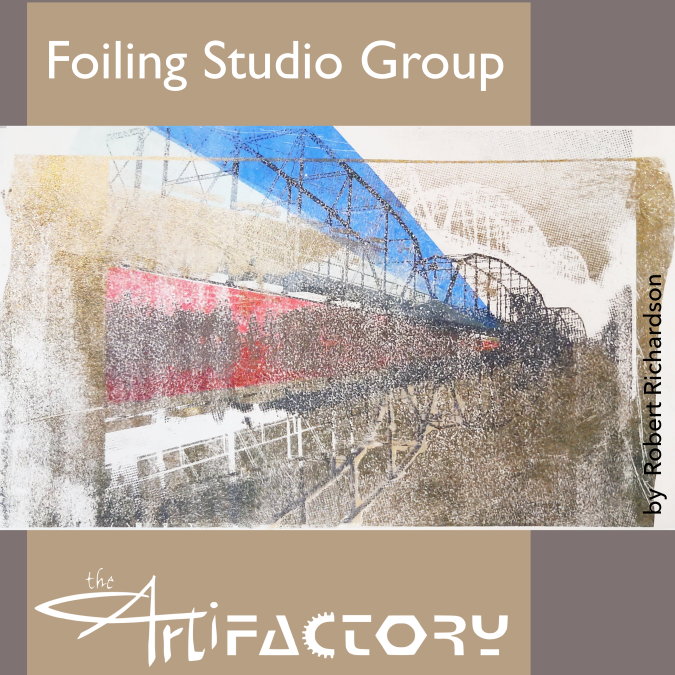 March 18 
@ 
1:00 pm 
– 
4:00 pm 
CDT

| How to Register at the ArtiFactory |
---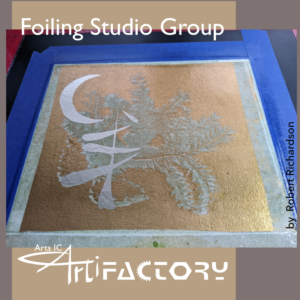 Maybe you are a Firstime Foiler or ready for Foiled Again! Experience fine art foiling in our studio group. The creation of foiled paperworks typically involves the use of metallic or pigmented foil to add decorative elements to your artwork. This could include adding metallic accents to drawings or paintings, or using foil to create unique textures or patterns on the surface of the art piece.
Foiled Paperworks
Some artists use hot stamp foiling to enhance the visual impact of their work by creating contrast between the foil and the underlying substrate. For example, a black-and-white drawing or painting could be accented with gold or silver foil to create a striking, eye-catching effect.
In addition to traditional art mediums such as paper or canvas, hot stamp foiling can also be used on a variety of other substrates, such as wood, fabric, or leather, to create unique and innovative fine art pieces. The versatility of the process makes it a popular choice for artists who are interested in exploring new techniques and materials. Intaglio, relief, silkscreen and collagraphic printmaking can be added to this innovative process. Digital laser and inkjet prints can also enter the mix.
Visit our Foiled Paperworks resource page.
Overall, hot stamp foiling offers artists a way to add a decorative and luxurious touch to their fine art pieces, and has become an increasingly popular medium for contemporary artists in recent years.
and
Virginia Myers is an American artist and printmaker who was associated with the University of Iowa and is credited with being a pioneer in the use of hot stamp foiling as a medium for fine art production. Myers was known for her innovative use of foil and other materials in her printmaking, and she was recognized as a leader in the field of hot stamp foiling.
Throughout her career, Myers explored the possibilities of hot stamp foiling and developed new techniques for using the process to create decorative and textured effects in her art. She was also an educator, and she taught printmaking and other art-related subjects at the University of Iowa and other institutions.
Myers's pioneering work with hot stamp foiling has had a lasting impact on the field of fine art production, and she is widely recognized as a leading figure in the use of this medium. Her contributions to the development of hot stamp foiling have helped to establish the process as a widely used and versatile medium for fine art production.
$20 per session  (ink, foil & 1-10″x13″ domestic etch paper included) Participants must be 18 years of age or older. Those 12 to 17 years of age may participate if accompanied by a parent or adult guardian.
Additional Printmaking Materials
additional $5 for 1-8″x10″ Plexiglas plate and 4-10″x13″ domestic etch paper