Jack SPLAT
November 6, 2021 @ 10:00 am

-

11:00 am

Free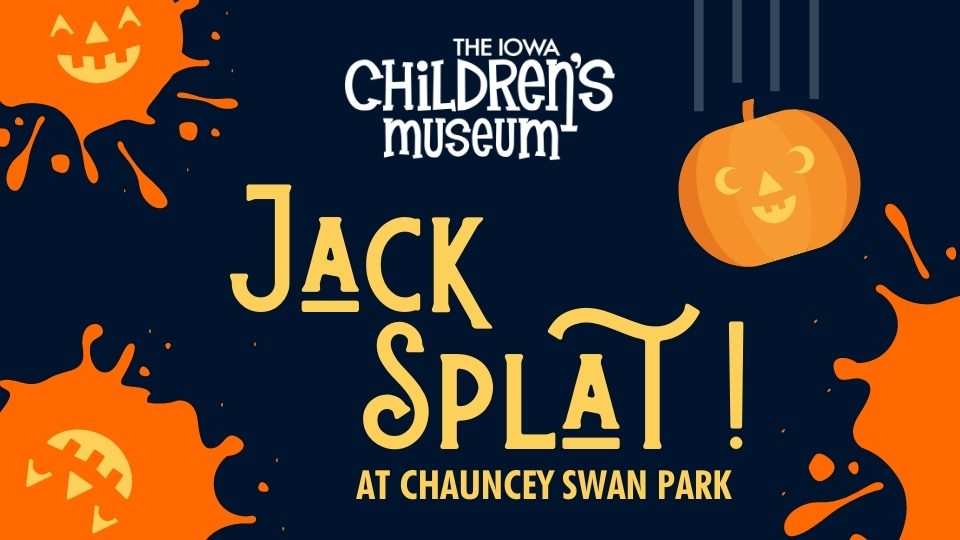 Don't toss your jack-o-lanterns in the garbage—let us toss them from up high instead! Jack SPLAT IS BACK AND GOING TO A WHOLE NEW LEVEL!
Join us on Saturday, November 6th at 10 a.m. in Chauncey Swan Park as we give your carved creations one last hurrah for the Halloween season! We will be throwing the pumpkins off the northwest corner of the parking ramp, so set up your blanket or lawn chairs nearby to get the best view. Come for the SPLATS, but stay for music and jokes from Pete the Turtle (and our Executive Director, Jeff). Watch the high-flying fun and enjoy a fall morning in the park.
How It Works
Prep your pumpkins! See below for details about how to get your jack-o-lantern ready to fly.
Drop off your pumpkins at The Iowa Children's Museum on Thursday, Nov. 4 or Friday, Nov. 5 during our opening hours (10 am – 6 pm). You can also bring your carved creations to the big event at Chauncey Swan Park in Iowa City. All pumpkins must be received by 10:00 a.m. on Saturday, Nov. 6th.
Get ready to watch the SPLATS!  Pumpkins will be thrown from the northwest corner of the parking ramp, so grab a spot nearby for the best view. Chairs and blankets are encouraged.
Pumpkin SPLATS will start at 10 a.m.
We will feature the first name of each pumpkin's owner, so keep an eye out for YOUR sky-diving squash as you watch all the SPLATS!
Prep Your Pumpkins
Please remove candles, artificial lighting, or any other decorations that are in or attached to the pumpkin. This includes stickers, ribbons, and remnants of candle wax inside. Pumpkins that have been painted or coated with a preserving sealant should not be added to a compost pile. Pumpkins coated with glitter should not be composted, either. If only a portion of the pumpkin is coated with paint or glitter, it is okay to cut off that portion and dispose of it, while adding the remainder of the pumpkin to the compost pile