Sunday Fun Day: Alma Thomas Heart Mosaics
Sunday Fun Day: Alma Thomas Heart Mosaics
February 5 @ 1:00 pm

-

4:00 pm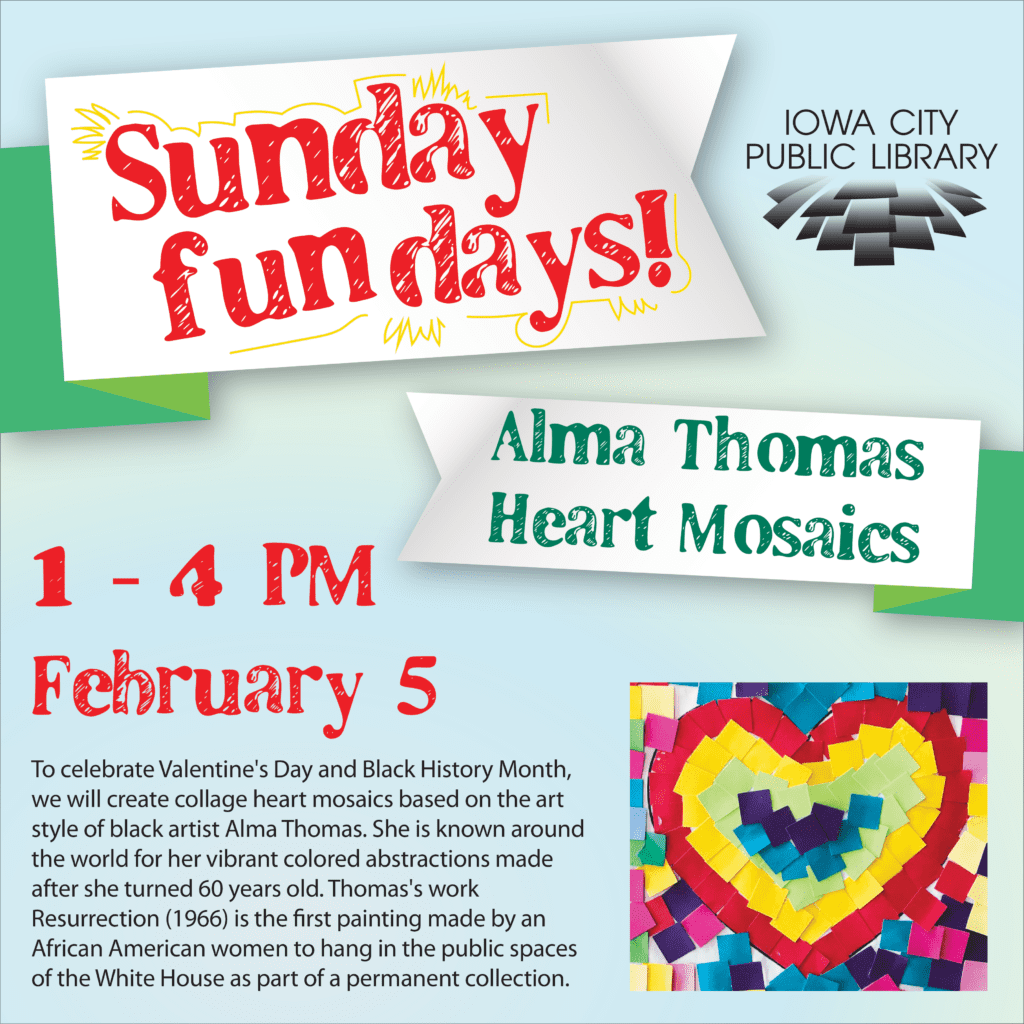 Sunday, February 5, 2023 –1:00pm to 4:00pm
To celebrate Valentine's Day and Black History Month, we will create collage heart mosaics based on the art style of black artist Alma Thomas. She is known around the world for her vibrant colored abstractions made after she turned 60 years old. Thomas's work Resurrection (1966) is the first painting made by an African American women to hang in the public spaces of the White House as part of a permanent collection.
—
Para celebrar el Día de San Valentín, crearemos mosaicos de corazón de collage basados ​​en el estilo artístico de la artista Alma Thomas. Es conocida en todo el mundo por sus abstracciones de colores vibrantes realizadas después de cumplir los 60 años. La obra de Thomas Resurrection (1966) es la primera pintura realizada por una mujer afroamericana para colgar en los espacios públicos de la Casa Blanca como parte de una colección permanente.
为庆祝情人节和非裔历史月,我们将仿照非裔艺术家阿尔玛·托马斯的艺术风格创作拼贴心形马赛克拼贴画。托马斯在60 岁以后以充满活力和色彩的抽象画创作而闻名于世。她的画作《复活》(1966 年)是白宫公共区域永久收藏的第一幅由美国非裔女性画家创作的作品。
If you need disability-related accommodations in order to participate in this event, please contact the Library.
This event is open to the public.