Totally Tweens: Comic Art Workshop
Totally Tweens: Comic Art Workshop
July 13 @ 4:00 pm

-

5:00 pm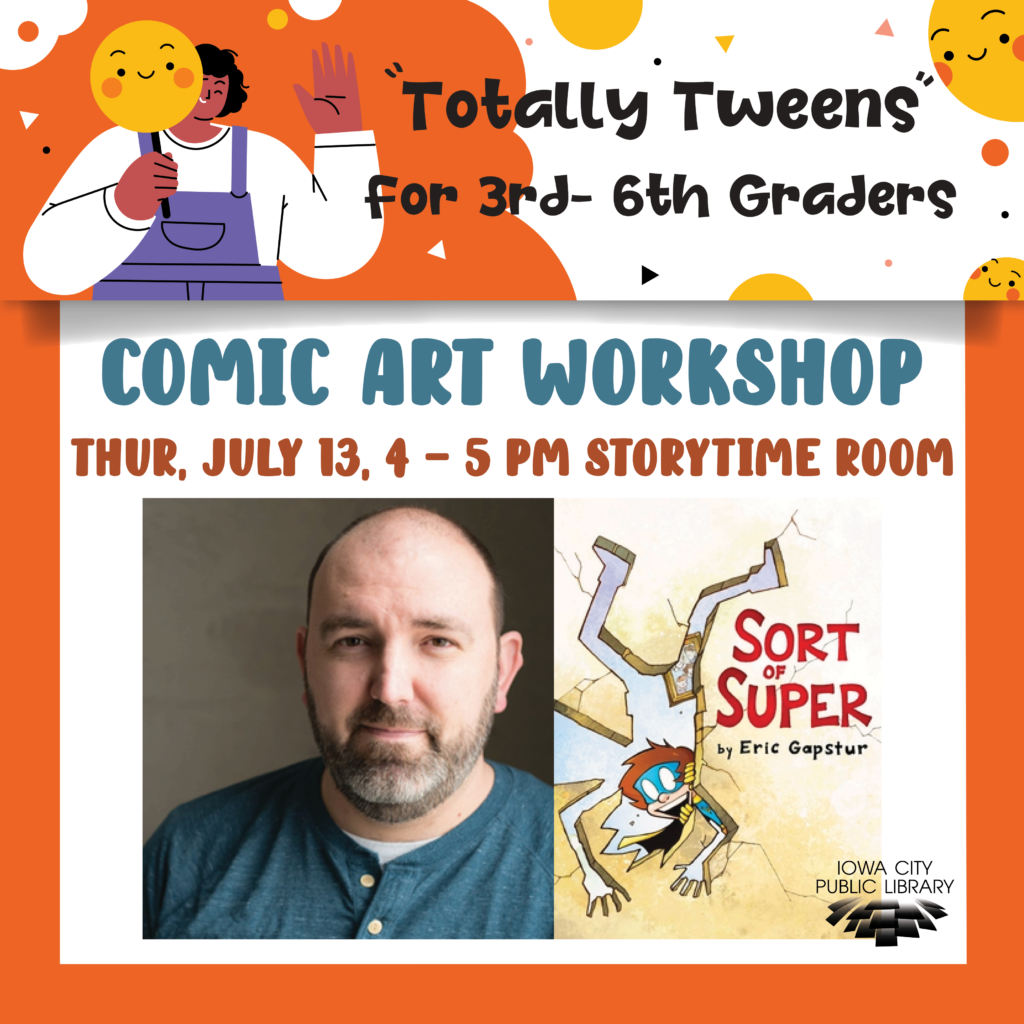 Thursday, July 13, 2023 –4:00pm to 5:00pm
Join Eric Gapstur, creator of the "Sort of Super" graphic novel series, for a program all about how to make graphic novels! Tweens will learn about each step in the process: writing, drawing, coloring, and lettering. There will also be a short Q&A followed by an interactive demo where you'll create and draw your own comic book character. A few lucky tweens will go home with a door-prize copy of the book!
Eric Gapstur is an author, illustrator, and cartoonist living in Eastern Iowa with his wife and two sons. His work can be seen in DC and Image comics, among others. "Sort of Super," which Simon & Schuster calls "'Awkward' by Svetlana Chmakova meets the HiLo series" is his debut middle grade graphic novel series.
This program is for kids in grades 3-6.
和"Sort of Super"漫画小说系列的作者Eric Gapstur一起学习如何创作漫画小说! 同学们将详细了解从写作、绘画到着色和刻字的每一个步骤。 之后进行简单的答疑和互动演示,您将有机会创作绘制自己的漫画人物。 幸运者还将抽中一本免费书!
Eric Gapstur 是一位作家、插画家和漫画家,他与妻子和两个儿子住在爱荷华州东部。 他的作品常见于 DC 和 Image 漫画系列等。
本活动面向3-6 年级同学。
—
¡Únase a Eric Gapstur, creador de la serie de novelas gráficas "Sort of Super", para un programa sobre cómo hacer novelas gráficas! Los preadolescentes aprenderán sobre cada paso del proceso: escritura, dibujo, coloreado y letras. También habrá una breve sesión de preguntas y respuestas seguida de una demostración interactiva en la que creará y dibujará su propio personaje de cómic. ¡Algunos preadolescentes afortunados se irán a casa con una copia del libro como premio en la puerta!
Eric Gapstur es un autor, ilustrador y caricaturista que vive en el este de Iowa con su esposa y sus dos hijos. Su trabajo se puede ver en cómics de DC e Image, entre otros. "Sort of Super", que Simon & Schuster llama "'Awkward' de Svetlana Chmakova se encuentra con la serie HiLo" es su primera serie de novelas gráficas de grado medio.
Este programa es para niños en los grados 3-6.
If you need disability-related accommodations in order to participate in this event, please contact the Library.
This event is open to the public.