Totally Tweens: Snap Circuits
Totally Tweens: Snap Circuits
July 6 @ 4:00 pm

-

5:00 pm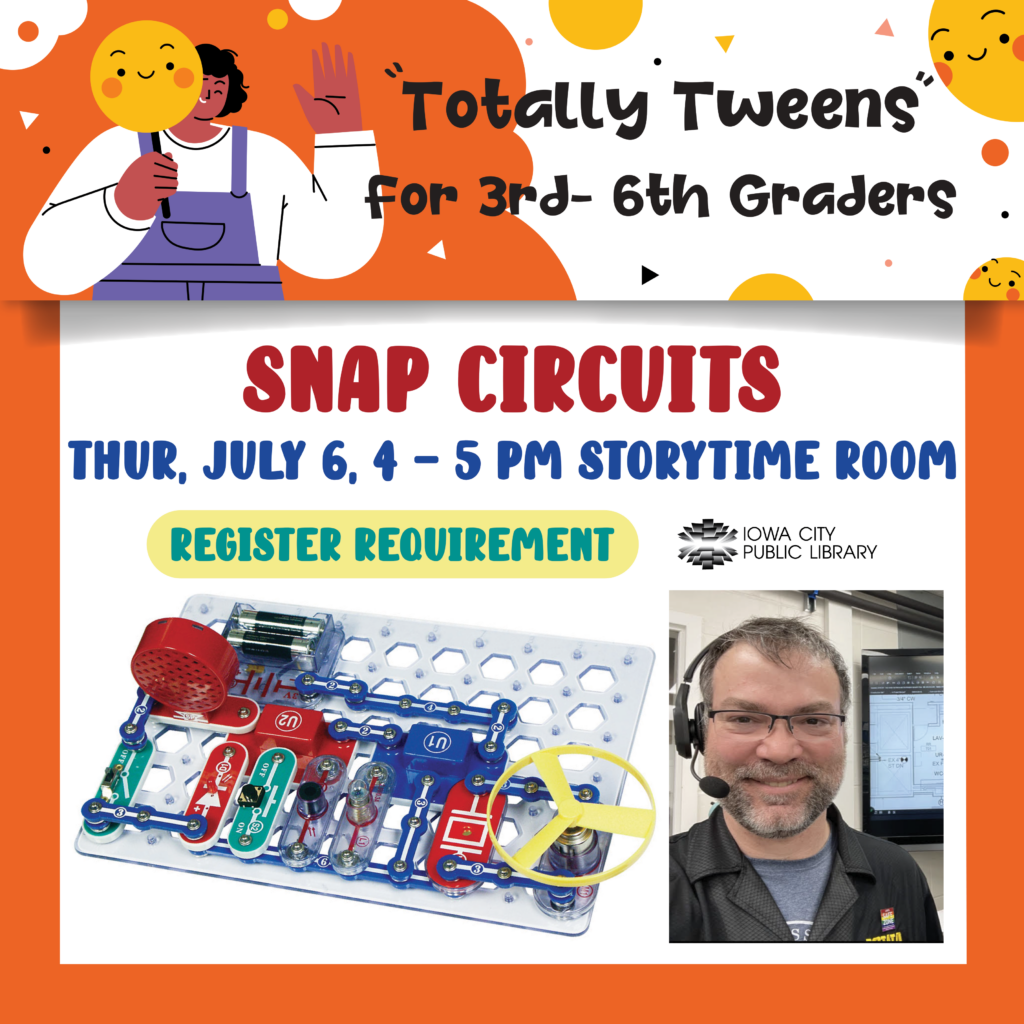 Thursday, July 6, 2023 –4:00pm to 5:00pm
Explore the electrical world with Aerospace Electronics instructor Michael Webb and Snap Circuits, an award-winning kit that demonstrates how circuits are designed and assembled. In this workshop, we'll build a light-activated switch, a musical doorbell, and everyone's favorite, the flying saucer launcher! Come learn the fundamentals of applied electronics while having fun with these hands-on kits.
Michael Webb discovered electronics at a young age and has been fascinated by them ever since. He runs the Electronics Assembly Shop in Van Allen Hall at the University of Iowa, where he and his students build space instruments for the Department of Physics and Astronomy and NASA. In his spare time he participate in the local HAM radio club, fixes arcade games, and enjoys DIY projects with friends.
Registration required. This event is for kids in grades 3-6.
与航空电子讲师 Michael Webb 一起玩电路积木,探索电子世界!Snap Circuits 乐光电路积木是一套获奖玩具,可演示电路的设计和组装方式。 今天的活动我们将制作一个光控开关、一个音乐门铃,以及每个人都喜欢的飞碟发射器!一起来学习应用电子学的基础知识,开发动手的乐趣吧。
Michael Webb自幼年时就沉迷于电子世界。 他在爱荷华大学的 Van Allen Hall 经营电子组装车间,供他和学生们为物理和天文学系以及 NASA 建造空间仪器。 在业余时间,他参加本地的 HAM 广播俱乐部,修理街机游戏,并和朋友们一起制作 DIY 项目。
本活动面向 3-6 年级同学,请点击链接注册。
—
Explore el mundo eléctrico con el instructor de electrónica aeroespacial Michael Webb y Snap Circuits, un kit que demuestra cómo se diseñan y ensamblan los circuitos. En este taller, construiremos un interruptor activado por luz, un timbre musical y el favorito de todos, ¡el lanzador de platillos voladores! Ven a aprender los fundamentos de la electrónica aplicada mientras te diviertes con estos kits prácticos.
Michael Webb descubrió la electrónica a una edad temprana. Dirige el Taller de ensamblaje de productos electrónicos en Van Allen Hall en la Universidad de Iowa, donde él y sus estudiantes construyen instrumentos espaciales para el Departamento de Física y Astronomía y la NASA. En su tiempo libre, participa en el club de radio HAM local, arregla juegos de arcade y disfruta de proyectos de bricolaje con amigos.
Se requiere registro. Este evento es para niños en los grados 3-6.
If you need disability-related accommodations in order to participate in this event, please contact the Library.
This event is open to the public.