World Wednesday: Talavera Tiles
World Wednesday: Talavera Tiles
July 5 @ 1:00 pm

-

2:00 pm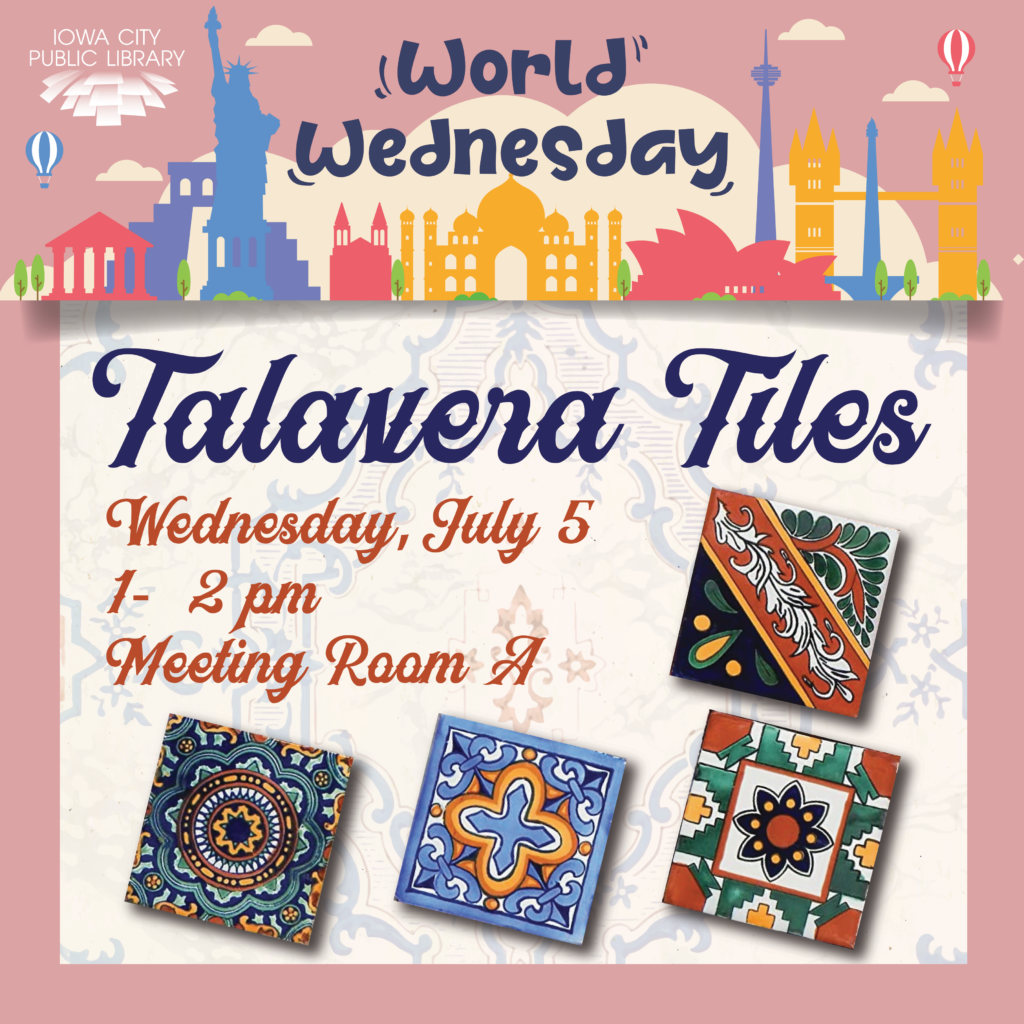 Wednesday, July 5, 2023 –1:00pm to 2:00pm
Meeting Room A, Meeting Room B, Meeting Room C
On Wednesdays during our Summer Reading Program, join us for a different event every week to broaden our knowledge of cultures around the world!
Join us as we learn about Mexican Talavera and color your very own tile to take home! Mexican Talavera, as it is known today, began in the 16th century. As the Spanish colonization of Mexico was underway, so too was Mexican Talavera. After founding the city of Puebla, Spanish artisans from Talavera de la Reina began sharing new techniques with local natives to enhance their pottery and ceramic skills. As a result, the beauty and quality of Mexican Talavera was born.
—
¡Los miércoles durante nuestro Programa de lectura de verano, únase a nosotros en un evento diferente cada semana para ampliar nuestro conocimiento de las culturas del mundo!
¡Únase a nosotros mientras aprendemos sobre la talavera mexicana y colorea su propio azulejo para llevar a casa! La talavera mexicana, como se la conoce hoy, comenzó en el siglo XVI. A medida que la colonización española de México estaba ocurriendo, también lo estaba la talavera mexicana. Después de fundar la ciudad de Puebla, los artesanos españoles de Talavera de la Reina comenzaron a compartir nuevas técnicas con los nativos locales para mejorar sus habilidades en alfarería y cerámica. Como resultado nació la belleza y calidad de la Talavera Mexicana.
世界星期三
每周三和我们一起参加各种各样的活动,了解世界各地的特色文化!
今天我们将了解墨西哥 Talavera 并绘制自己的瓷砖带回家!墨西哥塔拉维拉(Talavera)起源于16 世纪西班牙对墨西哥的殖民化过程中。普埃布拉市成立以后,来自 Talavera de la Reina 的西班牙工匠开始与当地人分享新技术,以提高他们的陶瓷工艺水平,从而也诞生了高品质高颜值的墨西哥塔拉维拉瓷砖。
If you need disability-related accommodations in order to participate in this event, please contact the Library.
This event is open to the public.